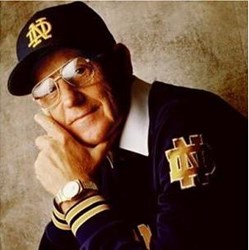 Miami, FL (PRWEB) August 14, 2013
Who needs leadership? If people just do their jobs and the company would run just fine. Right? Yes. But they don't. The fact of the matter is the average person does two hours of work in a normal eight-hour workday. What does this mean? People are lazy? It means they have no direction. Leaders give them direction. It's not about babysitting. It's about creating a strategy for leaders that others will follow. Jim Case Carlton's Training announces their new leadership strategy to increase leaders effectiveness with employees.
Lou Holtz has been a master leader for decades. How does he do it and how can organizations learn from him? Companies have been flocking to his lectures and using his Lou Holtz Do Right programs for years. But what is the secret? How can he build such great teams and so fast?
Holtz makes no secret of his success. He lays it all out in his Lou Holtz Do Right video. He has come into losing collegiate football teams over and over and in the very next season, produced winners. He does this by utilizing some core principles he's used at Notre Dame and in all his other positions.
A Lou Holtz video such as If Enough People Care talks about the fundamentals of teamwork and how Holtz gets his team to believe in one another. But there has to be a program in place set up by the leader. The first has to be established a great deal of trust. Then Holtz does something most managers and leaders believe is unnecessary and probably a big fat waste of time. He takes the time to care about them. He lets them know that he actually cares about the people who work for him. These are his people.
If every relationship has that foundation of care and trust, it resembles that of a family. The people everyone fights the hardest for to never let down. This is the crux of his leadership style. His strategy is to build that family so strong that he gets the very best out of every individual and to fight and stick together as a team.
Jim Case Carlton's Training provides leadership training to organizations all over the world. Lou Holtz programs are just some of the programs they provide. To view these or other programs from this company online, click on their site at Jim Case Carlton's Training.