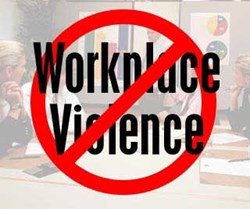 Los Angeles, CA (PRWEB) August 17, 2013
Workplace violence can be deadly. When people think about it, they conjure up thoughts of postal workers going back to work and shooting up the place. But after a lot of thorough investigation into these cases there are certain behavioral patterns that can be identified. And this is the good news according to Jim Case Carlton's Training, as now it can be stopped.
Workplace violence videos can show some pretty frightening footage to introduce how serious violence at work can be. But it is preventable to organizations looking to strike change to accomplish it. First of all there needs to be special attention paid to long-term grudges at work. Employees that hold grudges for long periods of time that are just chalked up to an unresolved conflict with an employee must be dealt with. These are the most common cases that lead to workplace violence.
The workplace harassment video Be Safe Not Sorry delves into how to identify the grudge holders and how to discuss with them the issue. Even if it has been years they need to be heard. Otherwise the way they will be heard is through their actions if no one will listen to their words.
Other tough workplace issues go as far as sexual harassment. As depicted in the sexual harassment video Let's Get Honest, this can also tear companies apart. When people are disrespected they don't stay. And this costs the company money to rehire and bad word of mouth that this behavior is tolerated at that organization. In addition, other employees that see it first hand may depart. When honored members of the team are lost this can cause a huge rift that is as deadly to a company as workplace violence.
Jim Case Carlton's Training has made it a point to keep the workplace safe and has used their corporate training media as a means to help accomplish this. If there are people at work that seem to be in anger or frustration with either employees for more than a few days there should be careful care taken to hear their side of the story. To view training videos on this subject online or learn more about this company click on their site here at Jim Case Carlton's Training.