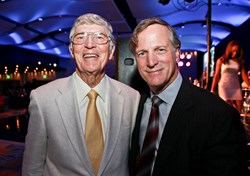 We appreciate the years and years of customer loyalty and look forward to providing more of the same great service to you in the future.
Atlanta, GA (PRWEB) September 06, 2013
Three decades. That is how long the local Atlanta Audi dealership has been in business dealing the finest of German-engineered luxury automobiles. Automobiles such as the ever-popular, supercar spectacle, the Audi R8, to as far back as the Audi Coupe GT; both of which were displayed on the newly renovated floors of the Georgia Aquarium's Ocean's Ballroom last month. The ballroom itself clad with hundreds of loyal individuals appearing on their own behalf to pay homage to the achievement that is 30 years of Audi sales and above par customer service.
Among the long list of attendees were some of Jim Ellis Audi's most beloved clients, past and present. Of this, what appears to be never-ending list of satisfied customers, were Mr. and Mrs. Gary and Alice Turner. The Turner's attest to being one of the Ellis family's very first Audi clients, and are still loyal clients to this day. The two stop by the Atlanta Audi dealership regularly—Gary in his A7 and Alice in her A5 cabriolet, where they can account to receiving the same extraordinary care to this day as they did all those years ago.
During the event, a compilation of clients' testimonials was shown on a projector for all to see, including that of the Turners who recounted a story of their first experience with the Audi dealership.
Also present in video form speaking on behalf of the Audi dealership's many accolades was actor Omar Epps, who just recently entered into a promotional relationship with Jim Ellis Audi while in town filming for a new television series. Actor Ian Somerhalder of Vampire Diaries fame appeared in the visual presentation as well as in person, posing for photographs with fans and mingling with the crowd of other notable individuals whom had nothing but great things to say about their experiences with the Jim Ellis Audi group.
The night was overflowing with Audi enthusiasts, celebrity and otherwise, donning their evening-wear while enjoying cocktails and conversation. Mr. Ellis and his son, Vice President Jimmy Ellis took to the stage to express their gratitude for the years and years of loyalty to not only the Audi brand but the Audi dealer's company as a whole. Jimmy Ellis stated, "We appreciate the years and years of customer loyalty and look forward to providing more of the same great service to you in the future."
In addition to the visually-stunning vehicles on display, the night consisted of a live band, two open bars, a food spread catered by Wolfgang Puck and Company, as well as two large viewing windows contributing to the nautical luster of the evening. Eric Lane, an employee of Jim Ellis Audi Atlanta, had this to say: "I enjoyed the fact that I could have dinner and drinks just a few feet away from an Audi R8 Spyder as well as 40-foot whale shark."
In all, attendees got their fill of great food, drinks, and live music amongst the company of many other clients who shared the same sentiments as them when it comes to having been a party to the decades of automotive and customer service excellence that is the Jim Ellis Audi dealership.
About Jim Ellis Audi of Atlanta
Jim Ellis Audi of Atlanta is a full-service Audi dealer in Atlanta, GA that has been in business since 1971. Not only are they a three-time National leader in certified pre-owned sales but they have received the MAGNA award seven times! They carry the largest inventory of both new and used Audi vehicles in the Atlanta area. Their service technicians are trained on Audi cars and SUVs for premium repair and service on all Audi vehicles. Visit their website at http://www.jimellisaudiatlanta.com for dealership information or to schedule Audi service in Atlanta online.