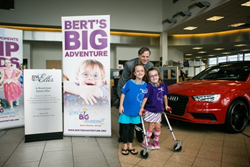 We are beyond excited to partner with Bert and Stacey and everyone at BBA
Atlanta, GA (PRWEB) September 13, 2014
Jim Ellis Audi Atlanta is a proud partner of Bert's Big Adventure, a non-profit organization that provides a five-day all-expenses-paid trip to Walt Disney World for children with terminal and life threatening illnesses. Jim Ellis Audi Atlanta donated a 2015 Audi A3 Cabriolet as a grand prize for the notable cause to raffle off. Bert's Big Adventure will keep 100 percent of the proceeds.
Bert's Big Adventure was founded by Bert and Stacey Weiss in 2002 to offer additional support and charitable services to families with children facing a chronic illness. The organization strives to help foster a communal bond between families facing financial hardships and challenges.
"We are beyond excited to partner with Bert and Stacey and everyone at BBA," said Jim Ellis Audi Atlanta General Manager Tracie Maloney. "These families are going through unbelievable financial, physical and emotional hardships. Those hardships affect everyone in the family, especially the siblings. This is something that often gets overlooked in the day to day struggles of dealing with these illnesses. To provide a week of pure care-free joy to these families is invaluable. We, as a brand and member of the Atlanta community are so incredibly proud to be a small part of this and we sincerely appreciate the opportunity. We look forward to supporting this cause for as long as they will have us!"
Jim Ellis Audi Atlanta will be hosting a raffle for the grand prize drawing. There will be 1,000 chances sold and all chances must be purchased by 5 p.m., Wednesday, October 29. Chances can be purchased by visiting the links below. All grand prize winners must be 18 years of age and possess a valid driver's license in order to claim the prize. The winner of the raffle will be announced October 31 on "The Bert Show" on Q100 FM between 7 and 9 a.m. All proceeds from the raffle will go towards Bert's Big Adventure, Inc.
To purchase a ticket for the Audi A3 Cabriolet Raffle and see the full contest rules and details, visit http://www.BertsBigAdventure.org.
About Jim Ellis Audi Atlanta
Jim Ellis Audi Atlanta is a full service new and used Audi dealer in Atlanta, GA, that has been in business since 1983. The dealership carries the largest inventory of both new and used Audis in the south. The Jim Ellis Audi Atlanta service technicians are trained on Audi cars and SUVs, and boast a knowledgeable parts staff that proudly serves the Metro Atlanta area. Visit them at 5901 Peachtree Boulevard, Atlanta, GA, or online at http://www.jimellisaudiatlanta.com