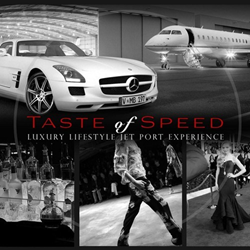 Atlanta, GA (PRWEB) May 31, 2014
Jim Ellis Audi Atlanta, Jim Ellis Maserati and Jim Ellis Porsche are proud sponsors of the 2014 Taste of Speed Jet Port Experience event that will be held at the DeKalb Peachtree Airport June 7 from 8 to 11 pm. The event will showcase luxury vehicle models, private jets, custom motorcycles, and legendary cuisine. There will be live entertainment, a couture runway fashion show and signature cocktails and hors d'oeuvres prepared by a celebrity chef. Proceeds from the evening will benefit the CURE Childhood Cancer organization, so join us as we toast to ending childhood cancer.
The 10,000 sq. ft. Peachtree DeKalb Airport hangar will be transformed into a lavish red-carpet event for the Taste of Speed. Five-time Grammy-nominated musician, Ashanti Floyd, will be performing during the event. The "High Speed Meets High Fashion" runway fashion show is sure to be a crowd favorite as well as the live and silent auction where each of our dealers will be auctioning off a fantasy weekend in one of their luxury vehicles.
Tickets for the Taste of Speed event start at $125 and can be purchased at http://www.tasteofspeed.com. VIP ticketholders will have the opportunity to browse exclusive cars, experience fine dining and intermingle with celebrities and special guests. Attendees will receive a swag bag at the end of the night complete with trendy gifts from the event sponsors.
Indulge in a night of decadence and join us as we roll out the red carpet for this luxury lifestyle experience. For more information about this event visit the jimellis.com calendar of events.
About Jim Ellis Automotive Group
Jim Ellis Automotive Group has been serving the Atlanta area since 1971, starting with Volkswagen as the flagship brand. The group has expanded to 10 brands and 14 dealerships covering the Atlanta, Buford, Kennesaw and Marietta areas. The dealership brands include: Audi, Chevrolet, GMC Buick, Hyundai, Maserati, Mazda, Porsche, Volkswagen, and Volvo. All Jim Ellis dealerships offer an expansive inventory of new and pre-owned vehicles. For more information visit them online at http://www.jimellis.com.