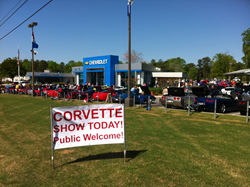 Atlanta, GA (PRWEB) May 05, 2014
Jim Ellis Chevrolet experienced great success during the 6th Annual Spring Corvette show on April 12 at the Jim Ellis Chevrolet dealership. The 'Stingrays Then and Now' themed event featured over 100 vintage Corvettes models that were displayed for enthusiasts to admire. Various year Stingray models were featured in the "Stingray Corral." The highlight of the show was the all-new 2014 C7 Corvette Stingrays, which turned the heads of over 1,000 spectators that were present at the event.
The Spring Corvette Show was sponsored by both Corvette Atlanta – one of Georgia's premier Corvette clubs -and Jim Ellis Chevrolet Atlanta. The show was open to the public and admission was free for spectators. Several "Dealer" awards were presented by Jim Ellis Chevrolet for Best in Show, Best Custom and Best Paint. Michael Covington won the Best in Show award, Tony Williams won the Best Custom award and Gary Hartter won the Best Paint award.
Jim Ellis Chevrolet General Manager Mark Frost said, "Jim Ellis has a long, proud history of sponsoring automobile-related events that also serve as charitable benefits to worth-while organizations. As one of the Southeast's largest Corvette dealers, Jim Ellis Chevrolet is honored to do its part in continuing that tradition. Our sponsoring partner, Corvette Atlanta did a great job putting on the show and thus enhancing our reputation as 'Corvette Central' in Georgia."
The Spring Corvette Show raised about $5,000 and all proceeds will go towards the Patient Equipment Fund at the Shepherd Center, a private non-profit organization that specializes in the treatment, research and rehabilitation for people with spinal cord and brain injuries.
For photos, videos and more information about the 6th Annual Jim Ellis Chevrolet/Corvette Atlanta Club Corvette show visit the Corvette Show website.
About Jim Ellis Chevrolet Atlanta
Jim Ellis Chevrolet provides new Chevrolet cars, trucks and pre-owned certified vehicles to the Metro Atlanta area and beyond. Jim Ellis Chevrolet also has service and parts departments available for the upkeep of all GM vehicles. Jim Ellis Chevrolet is located just inside the perimeter at 5900 Peachtree Boulevard. Visit their website at http://www.jimellischevrolet.com or contact by phone at 877.913.9800 for more details, including current inventory on all in-stock vehicles.