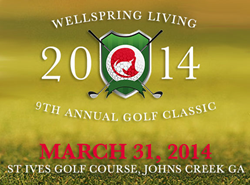 Johns Creek, GA (PRWEB) February 28, 2014
Jim Ellis Maserati is a proud sponsor of the Wellspring Living Golf Classic that will be held March 31 at the St. Ives Golf Course in Johns Creek. The golf tournament serves as a platform to help support sex trafficking survivors on their journey to recovery and Jim Ellis Maserati will be a hole sponsor and also providing a Maserati Ghibli as a hole-in-one prize for the event.
Wellspring Living is a non-profit organization that provides support, stability, and restoration for sex trafficking survivors in an effort to assist them with their rehabilitation. Wellspring Living's mission is to "confront the issue of childhood sexual abuse and exploitation through awareness, training, and treatment programs for girls and women," according to the Wellspring Living website.
The president and founder of Wellspring Living, Mary Frances Bowley, established the organization in 2001 as an activist in the fight against child sex trafficking. Bowley currently serves as an advocate for justice for sexually exploited children.
"The United States Government currently estimates that 600,000 to 800,000 individuals are trafficked across international borders each year and exploited through forced labor and commercial sex exploitation," according to the Trafficking Victims Protection Reauthorization Act of 2005. Atlanta ranks as one of the top 14 cities in the nation with the "highest incidence of children used in prostitution," according to a 2005 FBI Status Report.
The Wellspring Living Golf Classic proceeds will go towards the mentorship and support of sex trafficking survivors. Donations provide Wellspring Living with the funds to continue investing in the lives of survivors and their futures.
Jim Ellis Maserati is pleased to be a part of this event and stand alongside Wellspring Living in the fight against the global sex trafficking industry.
To learn more about entering as an individual or team in the Wellspring Living Golf Classic, visit the Wellspring Living website at http://www.wellspringliving.org.
About Jim Ellis Maserati Atlanta
Jim Ellis Maserati is a new addition to a notable collection of new and pre-owned automobiles offered by the Jim Ellis Automotive Group. Maserati is a brand renowned for their unique combination of aerodynamic design and high performance. Located just inside the perimeter at 5855 Peachtree Boulevard, Jim Ellis Maserati offers an expansive inventory of new and pre-owned vehicles. Visit them online at http://www.jimellismaserati.com or contact by phone at 888.219.1803.