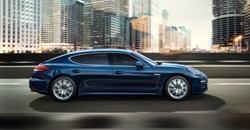 Atlanta, GA (PRWEB) September 06, 2013
Jim Ellis Porsche announced that the expanded Porsche Panamera model line has arrived in their Atlanta showroom. Seven new variants, including the Panamera 4, 4S, 4S Executive, GTS, Turbo and Turbo Executive, are now available for sale in the U.S. The Panamera S E-Hybrid plug-in will go on sale later this fall.
The 2014 Panamera models continue to push the limits of sportiness and comfort. The Executive versions, available as 4S and Turbo models, feature an extended wheelbase and a completely new 3.0 twin turbo V6 engine. The Panamera S E-Hybrid, a plug-in electric vehicle, is capable of accelerating from a standstill to 60 mph in 5.2 seconds on its way to a top track speed of 167 mph.
For more information about the new models, visit http://www.porsche.com/usa or http://www.jimellisporsche.com.
Pricing details are as follows:
Panamera - $78,100
Panamera 4 - $82,800
Panamera S - $93,200
Panamera 4S - $98,300
Panamera S E-Hybrid - $99,000 (available late autumn 2013)
Panamera GTS - $113,400
Panamera 4S Executive - $125,600
Panamera Turbo - $141,300
Panamera Turbo Executive - $161,100
*Base pricing does not include options, taxes, dealer charges and a destination fee of $975.
About Jim Ellis Porsche
Jim Ellis Porsche, the premier Atlanta Porsche dealer, has a long history of customer loyalty and commitment to customer care that has set them apart for more than 28 years. Along with certified sales professionals, they have the most highly trained service technicians in the industry. The Jim Ellis family of dealerships has served the Atlanta area for more than 40 years and is committed to their slogan, "Expect the best." Visit Jim Ellis Porsche just inside the perimeter on Peachtree Industrial Parkway in Atlanta, GA or online at http://www.jimellisporsche.com.
About Porsche Cars North America
Porsche Cars North America, Inc. (PCNA), based in Atlanta, Ga. is the exclusive U.S. importer of Porsche sports cars, the Cayenne SUV and Panamera sports sedan. Established in 1984, it is a wholly-owned subsidiary of Porsche AG, which is headquartered in Stuttgart, Germany, and employs approximately 220 people who provide parts, service, marketing and training for 189 dealers. They, in turn, work to provide Porsche customers with a best-in-class experience that is in keeping with the brand's 63-year history and leadership in the advancement of vehicle performance, safety and efficiency. At the core of this success is Porsche's proud racing heritage that boasts some 30,000 motorsport wins to date.