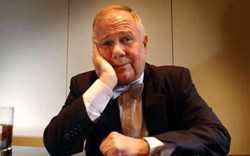 We've got to stop this, this is going to be bad!
Burbank, CA (PRWEB) November 14, 2013
"We're all losing the currency wars," says legendary investor Jim Rogers in an exclusive interview released by Birch Gold Group. And he predicts that "as long as the politicians can continue to print money," the problem will get worse.
The bestselling author and Wall Street expert asserts that everyone should own precious metals as an "insurance policy" against the potentially catastrophic consequences caused by the Federal Reserve's policy of Quantitative Easing. Rogers told the precious metals company that the central bank's monetary policies will cause U.S. currency to become "more and more worthless." But the situation will deteriorate even further once the Fed begins to taper their trillion-dollar purchase of assets each year, causing the markets to plummet.
"Eventually the markets will just say, 'We're not going to play this game anymore,' and we'll have a serious collapse," Rogers claims. "I wish the politicians were smart enough at some point to say, 'We've got to stop this; this is going to be bad.' But unfortunately they never have, and probably never will … Nobody wants to go down as causing the collapse of the world."
The collapse may not happen all at once, Rogers told Birch Gold Group, which helps investors protect their savings with physical gold and silver, also as part of Precious Metals IRAs. But as the Fed continues to taper back its "stimulus," the markets will steadily drop further and further until a collapse forces a complete reset.
"Eventually [the Fed] will try to cut [Quantitative Easing]; it will finally cause the collapse," he says. "At that point, we will have a big change, because they will throw them out, whether it's the politicians or the central bankers or whoever … and then we'll finally start over. But it may be really painful in the meantime."
Investing in gold and other precious metals, Rogers says, can provide protection against the turbulence ahead.
"I've owned gold for many years. I've never sold any gold and I can't imagine I ever will sell gold in my life, because it is somewhat of an insurance policy," he says. "Everybody should own some precious metals as an insurance policy. So, if they don't have any right now, I would urge them to go buy something."
"If they do their homework, most people will then realize, 'Oh my gosh, I better have insurance, and gold and silver may get me through serious problems ahead.'"
Ultimately, to Rogers, "Nobody ever wins a currency war. Everybody loses in the end."
The full audio and transcript of Birch Gold Group's exclusive interview with Jim Rogers can be found at BirchGold.com: http://www.birchgold.com/jim-rogers-interview-qe-currency-gold-inflation/
For more information on Birch Gold Group or its precious metals investment options, please call (800) 355-2116 or visit http://www.birchgold.com.
---
About Birch Gold Group
Birch Gold Group, the Precious Metal IRA Specialists, is a leading dealer of physical gold and silver in the United States. The company helps people protect their hard-earned savings with investments in precious metals; clients do this by taking physical possession or by moving an existing IRA or 401(k) to an IRA backed by gold and silver. Birch Gold Group maintains an A+ Rating with the Better Business Bureau (BBB) and is the only precious metals dealer that is a member of the Retirement Industry Trust Association (RITA). For press inquiries or more information on Birch Gold Group, please call (800) 355-2116.
About Jim Rogers
Jim Rogers is an American investor and author of several books, including his most recent work, "Street Smarts: Adventures on the Road and in the Markets." A graduate of Yale University and Balliol College at Oxford, Rogers co-founded the Quantum Fund with George Soros, a global-investment portfolio that gained more than 4,000 percent in its first 10 years. Rogers also served as a professor of finance at the Columbia University Graduate School of Business and has provided financial commentary on numerous news media outlets, including CNBC, Fox News, and CNN, among others. He is currently the chairman of Rogers Holdings and Beeland Interests, Inc.