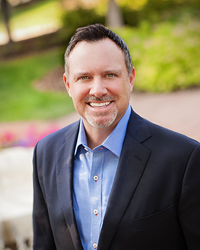 "It feels amazing to be honored for doing something that I am so passionate about."
Denver, CO (PRWEB) December 02, 2016
Five Star Professional is pleased to announce Jim Bonner, Commerce Home Mortgage, has been chosen as one of Denver's Five Star Mortgage Professionals for 2016.
Five Star Professional partnered with 5280 magazine to recognize a select group of Denver-area mortgage professionals who provide quality services to their clients. Less than 7% in the area were selected. Jim Bonner is featured, along with other award winners, in a special section of the September issue.
"This award is a great honor. I love doing what I do, meeting with first time home buyers who are excited to get into their new house; working with seasoned professionals who LOVE what they do; helping a client with a refinance, so they are able to save a little money every month or do those home repairs they have been putting off. My conversations with my clients are very rewarding, and it feels amazing to be honored for doing something that I am so passionate about," says Jim Bonner of Commerce Home Mortgage.
The Five Star Mortgage Professional award program is conducted in more than 30 markets throughout North America. Mortgage professionals are measured using an objective, in-depth research methodology with significant focus on customer feedback and overall satisfaction.
"Thank you. I would like to say 'thank you'… my business is almost 100% referral based. We strive to do our very best for every single client, delivering exceptional care from the beginning to the end. This is so important because I rely on these clients to share my name with their families, their friends, and their work associates," says Jim.
"Five Star Mortgage Professionals provide world-class service which is evident through their clients' loyalty. With a strong foundation of knowledge and experience, they work to understand their clients' needs and provide a financing solution that fits," says Dan Zdon, CEO, Five Star Professional.
About the research process:
Now entering its 13th year, Five Star Professional conducts in-depth, market-specific research in more than 45 markets across the United States and Canada to identify premium service professionals.
Five Star Professional contacts thousands of recent homebuyers, along with real estate agents, to identify award candidates and measure their client satisfaction levels. Phone, mail and online respondents rate their mortgage professional on criteria such as overall satisfaction and referability. Qualifying candidates are then evaluated on objective criteria such as experience, production levels and disciplinary and complaint history.
Professionals do not pay a fee to be considered or awarded. For more information, visit http://www.fivestarprofessional.com.