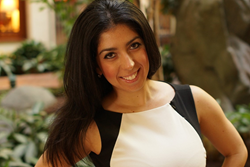 Being active on Linkedin is a must for today's business owners.
Los Angeles, CA (PRWEB) October 20, 2014
Business Rockstars and Host Ken Rutkowski, are proud to announce today's interview with Jimena Cortes, a sought after speaker, business strategist, and Linkedin Business Marketing Expert. Jimena Cortes will be giving marketing executives, business owners and entrepreneurs advice on how to create and optimize their Linkedin profile for their business. She will help clients strategically identify and build an audience, generate qualified leads, and ultimately convert them into customers. Jimena Cortes says that "using Linkedin as a marketing strategy is no longer just an option but a must for today's business owners." Jimena is also proud to offer free training to business owners and entrepreneurs on her website, LinkedBluePrint.
Jimena Cortes is a marketing consultant, published author and entrepreneur who is the founder of Wizard Media. Wizard Media helps businesses leverage search engines and social networks like Facebook and LinkedIn to get more clients. She has used LinkedIn over the past 2 years to grow her search and social media marketing company. Due to her success on LinkedIn, she recently launched a comprehensive training program on how marketers can leverage LinkedIn to grow their businesses.
Business Rockstars is currently syndicated nationally in over 50 cities, and is an entrepreneurial business platform driven by radio, television, and social media. Host Ken Rutkowski connects listeners to some of the biggest "Rockstar" CEO's and entrepreneurs to share their experiences starting, growing and funding businesses. Rutkowski has been profiled in The Wall Street Journal, Fox News, BBC, Wired, BusinessWeek, and dozens of other publications worldwide. Rutkowski is a regular guest and correspondent for FOX, NPR, ABC, and was the technology host on CNET. Rutkowski founded and is CEO of METal International (Media, Entertainment, Technology, Alpha Leaders), a powerful 1,600 member organization boasting top CEO's, VC's and Entrepreneurs. Business Rockstars' Chairman and Co-founder Steve Lehman was the Founder, Chairman and CEO of Premiere Radio Networks.
Ken Rutkowski is the Host of Business Rockstars and one of the most broadly-informed and connected people in media, entertainment and technology. He is called an 'Uber Connector', a master at networking. Ken prefers personal telephone calls over e-mails or texts (he tries to call 50-80 people every day).
A dot-commer from the early days, he is a pioneer, being one of the first broadcasters who went from radio out of a small town (Joliet, IL) to broadcasting over the Internet. He saw how big digital was going to be long before radio stations had websites worth visiting, long before social media existed, and long before anyone knew how the smartphone would take over lives.
Some of the most recognized personalities that have been guests on his program are: Al Gore, Donald Trump, Larry King, Steven Spielberg, Bill Gates and Benjamin Netanyahu, just to name a few. In addition, one could say Ken is a pundit and a strategist, helping companies, organizations and governments with insight, strategy and access ultimately empowering them to create high-level events that attract Business Rockstars.
Ken also started a group called METal, which consists of 1,600+ paying members. This group of dynamic entrepreneurs and change-makers in the sciences, health, media, entertainment & technology world, meet regularly to collaborate, share experiences and explore new business opportunities. And now, along with Steve Lehman, entrepreneur extraordinaire in his own right, Rutkowski has leveraged his two decades of networking, his Rolodex of CEOs, and his knowledge of the digital space into a syndicated talk show called Business Rockstars. The show focuses on the approximately 30 million aspiring entrepreneurs providing them with knowledge and opportunities beyond their wildest dreams, making Ken Rutkowski, the original Business Rockstar.