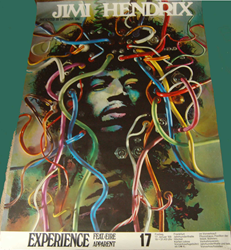 Kieser create probably the most iconic image of Hendrix—the Hendrix wire hair image.
San Francisco, California (PRWEB) October 22, 2014
Avid 1960's poster collector Andrew Hawley, from Vintage Rock Posters, is seeking vintage Jimi Hendrix 1969 Sportpalast Berlin Germany Concert Posters. The poster was designed by the well known German concert poster artist Gunther Kieser. The concert was held on January 23, 1969 at the Sportpalast in Berlin. According to Hawley, "Kieser designed nine posters for Hendrix's 1969 German tour. The posters were made in two different sizes for the Hamburg, Dusseldorf, Munich, Frankfurt, and Nuremberg shows. The tour started in Hamburg and ended in Berlin. Kieser create probably the most iconic image of Hendrix—the Hendrix wire hair image. The larger poster was 32 x 48 inches. They were hung in bus shelters and street walls. A smaller 22 x 33 inch poster was also printed. The smaller posters were hung in store and local establishments. All these posters were wheat pasted onto walls. Hawley wants to find a poster of each size for all of the German tour venues in January 1969. A rumor has it that 200 of each size was printed up for each show. Hawley is not interested in the merchandise posters that were printed up by the Darien House. These posters were sold at the show venues and not used in advertising. All the Darien House posters have a 15-1-69 date on them." For examples of the psychedelic Hendrix posters go to http://www.vintageconcertposterbuyer.com/psychedelic/jimi_hendrix.html
Hawley will pay $5,000 cash for each original Gunther Kieser Jimi Hendrix 1969 German tour concert posters. Any condition would be accepted!! Please call 310-346-1965 or email andrew(at)vintageconcertposterbuyer(dot)com.