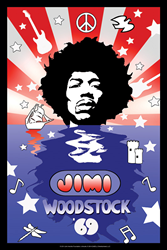 Zotos graphically captured the performance of the "Star Spangled Banner" in his 60's inspired "Star Spangled Jimi".
Los Angeles, CA (PRWEB) July 17, 2014
Tom Zotos teams up with the Jimi Hendrix Foundation to exclusively offer his newest collection of 3D poster art and t-shirts to fans at http://www.jimihendrix1.com. A generous portion of the proceeds will benefit the Jimi Hendrix Foundation, a non-profit charitable organization founded by Jimi's father, "Al" Hendrix. Zotos is known for philanthropic B2B collaborations that benefit charities. His last endeavor raised multi-millions for three prominent charities.
Supporting the Musical Passion of Children
"Sales of the Jimi Hendrix posters and t-shirts will support the foundation's program 'Music For Life'," said Joe Rosignolo, President/CEO of the Jimi Hendrix Foundation, "dedicated to benefiting children with a musical passion." One image, illustrated by Zotos, "I've Got A Guitar", celebrates Jimi Hendrix at age 15 when his dad, Al, gave him his first electric guitar. Jimi yelled, "I've got a guitar!", which echoed throughout the neighborhood.
45th Anniversary of Woodstock
To celebrate the 45th anniversary of Woodstock, a cultural touchstone that influenced generations, Zotos graphically captured the performance of the "Star Spangled Banner" in his 60's inspired "Star Spangled Jimi". The collection of limited edition posters and t-shirts highlight Jimi Hendrix's greatest and pivotal performances at Monterey Pop Festival, Hollywood Bowl, Royal Albert Hall, and includes a commemorative, "'Scuse Me", that pays the final homage to Jimi's short but inspirational career.
Digital Printing Enhancement
"Scodix On Top" is being used for the first time on a collectible art print by artist Tom Zotos. The first three posters in the collection features the revolutionary 3D effect using "Scodix On Top", a new and unique technology that enhances the artwork to transcend personal senses beyond just sight. Developed by Scodix Ltd., the new digital enhancement technique adds a 3D look–and-feel to high-quality artwork that stimulates human senses and provides depth to imagery. The breakthrough Scodix SENSE™ experience is now available through high-end commercial printing operations worldwide. For more information visit http://www.scodix.com.
Fans can receive the eNewsletter announcing special Jimi Hendrix events and news happenings all over the world by subscribing at http://www.JimiHendrix1.com. "Like" at http://www.Facebook.com/jamesmarshalhendrix1 site to stay tuned to all the newest social media buzz on Jimi Hendrix art, apparel, and Foundation programs.
About Zotos
Tom Zotos is the legendary pioneer behind the Interpretive Licensed Art Movement and the artist, publisher, and secret weapon behind the Warner Bros, Lucasfilm, and the Walt Disney Company. An intrepid entrepreneur from birth and veteran in the world of art publishing, Zotos directed and published some of the most revealing and thought provoking images of the last 25 years including "The Art of Walt Disney" collection (1986) and the "Speechless" tribute to Mel Blanc (1991-92), the highest grossing lithograph in the history of animation art. Today, Zotos has applied his savvy marketing and art direction skills to "Social Innovation" or as he calls it, "The Art of Social Innovation". Both terms broadly cover the concept of new ways to give back and improve society by using branded art products with collaboration between companies. His is a story of an innovator using both images and life as a medium, creating illustrated legacies and entrepreneurial precedents.