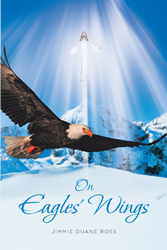 MEADVILLE, Pa. (PRWEB) August 20, 2019
"On Eagles' Wings": an important revelation about people in positions who have control over the citizens of America, the Constitutional and corporate United States of America's use of their powers, the bankruptcy filed to the Federal Reserve, and the fraudulent and corrupt organizations. "On Eagles' Wings" is the creation of published author Jimmie Duane Ross, a country boy from Louisiana who served seven years on active duty and active reserve as a tanker in the US Army. He soon became vice president of a micrographic recording service company. He studied for and received several licenses to become eligible to offer investment advice and enter financial services management. He is also a very strong advocate of enacting the Tenth Amendment to the Constitution and taking back America. His love of the Constitution and spiritual matters are very obvious in On Eagles' Wings, as he faced each challenge.
Ross shares, "These true-to-life experiences show how you can overcome and grow from the problems in your life. After all, if it had not been for Goliath, David would have remained a shepherd boy. The challenges that you face are part of life, not the end of it. I used my spiritual strength to conquer those problems and strengthen my faith. You will also see how we can have disappointing times in all segments of life. This includes professions, family, church members, banks, and, most of all, the corporate United States under the control of the unconstitutional Federal Reserve and its collection agency, Internal Revenue Service. You will see how our challenges sometimes force us to study and research such entities and discover the fraud and corruption that exists in government, Internal Revenue Service, Federal Reserve, and our judicial system. These things are not taught in government-operated schools that indoctrinate our school kids from an early age. Our judicial system is just as corrupt and no longer rings the bell of justice that was experienced during those wonderful days of freedom and liberties that were enjoyed by all Americans. Today, it is all about money, control, connections, and punishment. You will see that all those areas of life mentioned above use punishment, rather than compassion, to resolve or correct a situation. There is at least 15 percent of innocent people in prisons for political reasons, or just to put another notch in some judges' belt. At least 39 percent of people in prison are non-violent and should not be placed in prison. A judge in Tennessee stated that his goal was to sentence ten thousand years by his retirement. That is a vendetta, not justice.
"My purpose in sharing the information within is to reveal to you the two governments that are prevalent in America today. There is the Constitutional United States of America with its fifty sovereign states controlling their own affairs. Then there is the corporate United States, which has become an unconstitutional central government controlling every aspect of the lives of Americans. You were not taught in school about the bankruptcy that the United States was forced to file to the private-owned Federal Reserve in 1933. This is explained herein. I explain how the Internal Revenue Service, Federal Reserve, and its national banking system are frauds, as well as corrupt. They use any means necessary to control the citizens of America, even by murder, which is also proven from personal experience.
"The primary purpose is to awaken 'we the people' of this country to how they are in prisons without bars and do not realize it. My desire is to awaken the sleeping giant and motivate you to become active in taking back America before it is too late. I hope to set some records straight and reveal the truth of several personal situations. It should illustrate how our spiritual strength can assist each of us in continual challenges in our lives. The spirit is of the utmost importance in moving through this journey of life to arrive at our destiny. Society has lost respect for other people as we witness the atrocities that take place every day. Not only is our patriotism being tested, so is our faith. Our destiny is not found in this life, but rather in the life to come."
Published by Christian Faith Publishing, Jimmie Duane Ross' new book is a beneficial source of knowledge that hopes to awaken the readers to actively take back their nation before it completely breaks apart.
Also, it hopes to influence the people to protect their God-given rights against what is happening in the modern world and to lean on one's own spiritual strength to fuel the courage needed in these unending challenges in life.
View a synopsis of "On Eagles' Wings" on YouTube.
Consumers can purchase "On Eagles' Wings" at traditional brick & mortar bookstores, or online at Amazon.com, Apple iTunes store, or Barnes and Noble.
For additional information or inquiries about "On Eagles' Wings," contact the Christian Faith Publishing media department at 866-554-0919.