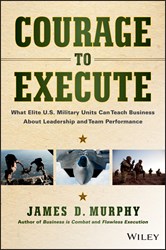 Through stories of missions and exercises conducted by U.S. military units, Murphy demonstrates why simplicity combats complexity and how mutual accountability yields trust.
Hoboken, NJ (PRWEB) February 05, 2014
How can elite U.S. military units consistently perform at such high levels, even in the midst of combat? What secrets do Navy SEALs, Army Rangers, and Blue Angels hold that give them the skills, ability, and confidence to execute their missions with such success? And what can these military professionals teach American business about teamwork, continuous improvement, and leadership?
In his new book, "Courage to Execute: What Elite U.S. Military Units Can Teach Business" about Leadership and Team Performance, James D. Murphy unpacks the lessons of high-performing units and provides organizations of all types with a simple yet effective model distilled from these warriors. Just as he does with his training and consulting firm of former military aviators and Special Operations officers, Murphy shares a multitude of personal leadership stories, along with examples from the battlefield and business. Together, they demonstrate how organizations, teams, and individuals can use a simple process based on military principles and tactics to develop the ability and confidence to achieve their goals.
"Elite military warriors are trained to perform at exceptionally high levels. They're put through the paces until they have the individual skills necessary to accomplish their missions, and then these warriors come together as a team. It doesn't take pedigree and it isn't a birthright. You have to earn it," says Murphy. "In truth you don't need special skills or background to become the best of the best – our entire military establishment was designed to take a diverse group of young people straight off the street and put them into a process that molds them into fighter pilots, Rangers, SEALs, and ultimately enables them to execute in the business world outside the military. One day I was a farm boy from Kentucky, and then I entered the process. Next thing I knew, I was an F-15 fighter pilot. A decade later, I was teaching companies how to execute like a well-train squadron. True story; and all because of a process."
Through stories of missions and exercises conducted by U.S. military units, Murphy demonstrates why simplicity combats complexity, how mutual accountability yields trust, and how adaptability and continuous improvement are cornerstones of successful battle plans. The book also explores:

The value of effective execution
How to develop common values and skills in internal teams
How to align a troop with a leader's intent and the organization's goals
How to move from organizational strategy toward accountable team and individual actions
How to maintain a team's battle rhythm and a leader's ability to execute, even in rapidly changing environments
The importance of regular debriefing and continuous improvement
How to develop teams and leaders from Day One
"We always say individual execution is one thing, but organizational execution is everything, and you can't execute at 100 percent if your team isn't aligned or doesn't exhibit those key traits that mark effective teams," Murphy adds. "Having studied teams in business and the military, we've identified six qualities that enable a team's success. Without these traits you're going to have a tough road."
In addition to simplicity combating complexity, a second theme and "cornerstone" position of "Courage to Execute" is that the U.S. military in general and its many elite organizations in particular, possesses a culture of high performance. The six basic principles that operate at the foundation of high performance are leadership, organization, communication, knowledge, experience, and discipline or L.O.C.K.E.D. When all are practiced effectively, team work emerges. But, there is something else, the most elusive quality that exists at the heart of all elite military teams, the element that organizations and businesses deeply desire to perform more efficiently and effectively – trust. Trust is easily spent, but hard won.
Murphy adds, "This book shows leaders how process works for some of the nation's finest, in the most challenging conditions, and proves they will see some spectacular results."
About the author
JAMES D. MURPHY is the founder and CEO of Afterburner, Inc., established in 1996. A former U.S. Air Force F-15 fighter pilot, Murphy established Afterburner to teach skills inspired by his military training and service to business leaders all over the world. He and his team of veterans led Afterburner to its three-time recognition by Inc. magazine for "fastest growth," and made the Inc. 500 List twice. He has been featured in the Wall Street Journal, BusinessWeek, Inc., Newsweek, and has appeared on CNN, Fox News, and Bloomberg News. He is also the author of "Business Is Combat," "Flawless Execution" and "Down Range."
About Afterburner
Afterburner Inc. was founded in 1996 by U.S. Air Force fighter pilot Jim "Murph" Murphy and trains organizations around the world in the simple, scalable improvement processes of Flawless ExecutionSM. Encompassing three management solutions, Empower SM, Equip SM, and EmbedSM, Afterburner brings elite military precision to top corporations around the world. With a client list that includes over 30% of the U.S. Fortune 500, Afterburner has ranked among Inc. Magazine's "Inc. 500/5000 List of America's Fastest Growing Companies" three times and has been featured in leading publications like the Wall Street Journal, Business Week, Atlanta Business Chronicle, Financial Times, Newsweek, and Meetings and Conventions Magazine. Afterburner has also appeared on CNN, CNBC, Fox News, and Bloomberg News, among others. To learn more about Afterburner's innovative approach to professional development and strategy, visit http://www.Afterburner.com or call (404)-835-3500.
###