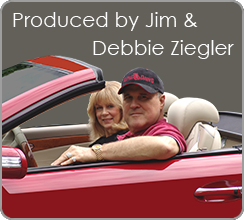 You and your managers will leave with a step-by-step "Battle Plan" that will dramatically increase your sales and profits... immediately.
Atlanta, GA (PRWEB) January 20, 2015
Jim "Alpha Dawg" Ziegler brings his famous automotive marketing conference Internet Battle Plan XVII to Tampa, FL on February 17-19, 2015. Produced by both Jim and Debbie Ziegler, this seventeenth iteration of their acclaimed Battle Plan once again brings together an impressive group of the industry's top experts to present at this premier educational event of the automotive sales industry.
Using speakers hand-picked by Ziegler for their techniques and processes in dealership sales, social media and technology, Internet Battle Plan conferences have a solid, proven reputation for showcasing the highest-caliber automotive experts in the country and increasing dealership profitability.
Internet Battle Plan XVII is sponsored by AutoLoop, CreditMiner, Dealer e-Process, Dealer Synergy, ELEAD1ONE, Herman Advertising, Hospitality Defender, Pineapple Advertising, Potratz Advertising, Remora, and TrueCar.
The keynote speaker this year will be Erich K. Gail, Chief Operating Officer of the Cardinale Group.
The other talented presenters are:
Sean V. Bradley, CEO of Dealer Synergy
Criss Castle, Automotive Management Consultant at Rick Case Automotive Group
Rico Glover, E-Commerce Sales Manager of Bryan Honda
Chris Herman, President of Herman Advertising
Elise Kephart-Adame ("The YouTube Diva,") VP of Internet Sales Training at Phone Ninjas
Christian Jorn, President of Remora, Inc.
Mat Koenig, Founder & CEO of KonigCo
Tammie LeBleu, National Sales & Dealer Development at AutoLoop
Gary May, President & Consultant at Interactive Marketing and Consulting Services (im@cs)
Dr. John Mlinarcik, CEO of PCS-Global
Don O'Neill, V.P. of Sales & Marketing at CreditMiner
Dave Page, Owner & Director of Dealer e-Process
Paul Potratz, COO of Potratz Advertising
Ken Potter, Vice President of Dealer Development for TrueCar, Inc.
Bill Wittenmyer, Partner at ELEAD1ONE
And, of course The Alpha Dawg himself, James A. Ziegler.
For more information about Jim Ziegler's Internet Battle Plan, speakers, sponsors, Ziegler SuperSystems, or to request information on discounted group rates, please call 1-800-726-0510 or visit http://www.internetbattleplan.com.
About Us: Ziegler SuperSystems is an automotive training and consulting organization based in the Atlanta, GA area. President Jim Ziegler has been a keynote speaker at National and State Dealer conventions, and has trained over 100,000 Dealers, Managers, and Industry Manufacturer Executives. To learn more about Ziegler SuperSystems, visit http://www.zieglersupersystems.com.