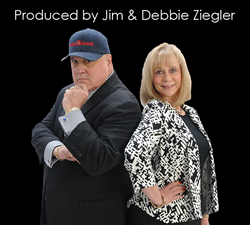 In today's fiercely competitive retail environment, every dealership must be operated at maximum efficiency.
Houston, TX (PRWEB) February 10, 2016
In today's fiercely competitive retail environment, every dealership must be operating at maximum efficiency. Every profit center must be synergistically integrated with every other department in the dealership while, at the same time, producing their maximum profitability. Your only choices - Grow or Die.
The name Jim Ziegler has become synonymous with high sustained dealership profits and super-performance. Ziegler and speakers will demonstrate numerous techniques, word tracts, strategies and real life examples of dealerships that are dominating their competitors with technology-enabled marketing and Internet techniques and programs. This is hands-on, "real-world" stuff, not theory. Ziegler is doing it in the real world, in real dealerships, with real customers.
Jim and Debbie Ziegler are legendary in the automobile industry for producing high-quality educational events, conferences and seminars for dealers, managers and manufacturer executives. Hundreds of thousands of dealers, managers and manufacturer executives have attended Jim Ziegler workshops and seminars. Jim and Debbie have produced 18 Internet Battle Plan Conferences and 3 Sales Management Super Conferences attended by thousands with results people in the industry are raving about - and this is Internet Battle Plan number 19 at the beautiful Doubletree Hotel Downtown in Houston, TX.
Among the topics during this two-day conference:
-How to turn your dealership into an Internet sales powerhouse
-How to ensure that your dealership doesn't waste a single opportunity to do business. 
-How to set up and manage a high-volume high-profit BDC.
-Video search engine maximization
-Methods, programs, marketing and advertising secrets to drive floor traffic and phone traffic. 
-Much, much more.
Battle Plan speakers will include:
Brian Barlow, Pineapple Advertising
David Blassingame, Autoflex Leasing
Sean V. Bradley, DealerSynergy
Jennifer Briggs, ZMOT Auto
Carletta Clyatt, The Omnia Group
Jim Flint, Local Search Group
Erich Gale, Cardinale Group
Chris Herman, Herman Advertising
Bobbie Herron, ZMOT Auto
Christian Jorn, Remora
Elise Kephart-Adame, The Elise Kephart Experience
Tammie LeBleu, AutoLoop
Manny Luna, VL Digital Marketing
Gary May, im@cs
Eric Miltsch, Command Z Automotive Consulting Inc.
Scott Pechstein, AutoBytel
Cody Pitchford, iDrive Media
Shaun Raines, DealerON
Kerri Wise, TrueCar, Inc.
And Jim Ziegler, The Alpha Dawg, will be on stage presenting "The Insane World of Alpha Dawg Social Media – Live Examples and Techniques."
As always, Dealer Principals, Manufacturer Executives and Association Executives attend at no charge, regardless of whether they bring their managers.
Internet Battle Plan XIX is proudly sponsored by AutoBytel, AutoLoop, Cardinale Group, DealerDefender, DealerOn, DealerSynergy, Herman Advertising, iDrive Media, iM@cs, Pineapple Advertising, Remora, SEMD, and TrueCar.
For more information, and to register for the conference and book the hotel, visit http://www.internetbattleplan.com, or call Jim Ziegler directly at 1-800-726-0510.