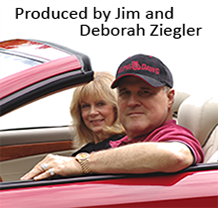 If you're already doing a great job, can you do even better?
Seattle, WA (PRWEB) May 12, 2015
Are grosses high enough? Is sales volume high enough? Is the dealership struggling to gain an edge on the competition?
The name Jim Ziegler has become synonymous with high sustained dealership profits and super-performance. Automotive Dealers and Managers will get the answer to these three questions and more at the third Sales Management Super Conference in Redmond, WA, at the Redmond Marriott Town Center, June 9-11!
Jim and Debbie Ziegler have become legendary in the automobile industry for producing high-quality educational events, conferences and seminars for dealers, managers and manufacturer executives. Hundreds of thousands of dealers, managers and manufacturer executives have attended Jim Ziegler workshops and seminars. Jim and Debbie have produced 15 Internet Battle Plan Conferences attended by thousands with results people in the industry are raving about - and now have produced three highly-successful Sales Management Super Conferences.
This event is like nothing else dealers have ever experienced; because very few are qualified to pull it off. Dealers and Managers: attend this event and watch the numbers soar.
This conference incorporates every aspect of variable operations management including experts on Internet Sales, Used Cars, Pre-owned Certified Sales, Managing the Sales Team, Hiring – Firing – Training and Promoting, Super Performance Project Management and Appointments, Website Conversion Techniques, Advertising, as well as CRM best practices and modern desking.
Speakers include:
Brian Barlow, Pineapple Advertising
Sean V. Bradley, DealerSynergy
Arthur Bush, AutoMax Recruiting
Denise Chudy, LotLinx
Erich Gale, Cardinale Group
Christian Jorn, Remora
Tammie LeBleu, AutoLoop
Scott Pechstein, AutoBytel
Ken Potter, TrueCar
Hunter Swift, DealerSocket
Jerry Thibeau, Phone Ninjas
Bill Wittenmyer, ELeadOne
And Jim Ziegler, The Alpha Dawg himself, will be on stage with four sessions on Professional Sales Management, including his famous "How to Work a Car Deal" session.
As always, Dealer Principals, Manufacturer Executives and Association Executives attend at No Charge, regardless of whether they bring their managers.
Sales Management Super Conference III is proudly sponsored by AutoBytel, AutoLoop, AutoMax, DealerDefender, DealerSocket, DealerSynergy, Dealertrack Technologies, LotLinx, Pineapple Advertising, Remora, and TrueCar.
For more information, and to register for the conference and book the hotel, visit http://www.zieglersuperconference.com, or call Jim Ziegler directly at 1-800-726-0510.