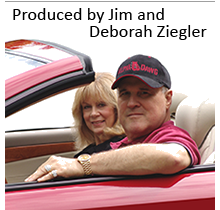 Sales Management Super Conference NUMBER ONE - "The Meeting of the Minds"
Dallas, TX (PRWEB) April 14, 2014
Jim and Debbie Ziegler have become legendary in the automobile industry for producing high-quality educational events, conferences and seminars for dealers, managers and manufacturer executives. Hundreds of thousands of dealers, managers and manufacturer executives have attended Jim Ziegler workshops and seminars. Jim and Debbie have produced 15 Internet Battle Plan Conferences attended by thousands with results people in the industry are raving about.
Dubbing this a "MEETING OF THE MINDS," Jim and Deborah Ziegler are proud to announce the FIRST Automotive Sales Management Super Conference, to be held in Dallas, Texas, from May 13th to the 15th, at the beautiful Hyatt Regency Hotel.
This event is like nothing else dealers have ever experienced; because very few are qualified to pull it off. Dealers and Managers who attend this event will see their numbers soar.
Jim Ziegler, The "Alpha Dawg" himself, will be on stage with four sessions on Professional Sales Management, including his famous "How to Work a Car Deal" session.
Ziegler is joined on stage by sixteen other experts in the auto industry:
Sean V. Bradley, Founder & CEO of Dealer Synergy, Inc.
Reuben Muinos, Director of Business Development at Dealer Socket.
Tammie LeBleu is Internet Director / Sales Manager at Orr Nissan Bossier City & Orr Nissan in Shreveport, Louisiana. and will be presenting "Everything I Do Online That Made Me the NUMBER TWO Nissan Sales Person in the Nation."
David Blassingame is Managing Partner at Autoflex Leasing. David will be presenting "Changing Your Business Model to Take Advantage of the Market."
Shawn Foster, Executive Trainer at DealerStrong, will discuss his "Formula for Finding New Profits From Customers that May Now Be Slipping Through the Cracks."
Ryan Holtz is a Marketing Consultant & Trainer at RyanHoltz.ca. His presentation is entitled "Who would of thought Automotive Digital Marketing Could Be Sexy?!"
Matt Koenig, Founder & CEO of KonigCo, presents "Mobile: The Now Generation for Getting & Keeping Customers."
Terry Lancaster, Co-founder and Vice President of Instant Events Automotive Advertising, will be asking the question "Why On God's Green Earth Are Car Dealers Still Spending 3/4 of Their Advertising Budget on Traditional Media?"
Gary May, President & Consultant at IM@CS, discusses how dealers will "Live or Die by Your CRM."
Don O'Neill, V.P. of Sales & Marketing & Co-founder of DealerLegion, will be presenting "Sell 30 New Cars to Your Competitor's Customers This Month!"
Dave Page, Owner & Director of Dealer e-Process, will discuss "Exploding Website Conversion - An Insiders Road Map to Benchmarking & Converting 50% of Website Visitors to Leads."
Ken Potter, Vice President of Dealer Development at TrueCar, Inc., will show the audience "A Behind the Scenes look at TrueCar."
Mike Ridenour is Sales Director at Dominion Dealer Solutions, and will teach the attendees how to "Maximize CRM Results."
Mark Tewart, sales expert, professional speaker, trainer, consultant, entrepreneur and best-selling author, will be presenting "High Performance Management - Death of the Traditional Dealership and Salesperson."
Mike Waterman is Divisional Vice President for Dealertrack Technologies and will be showing how "Wholesale Profit = Competitive Edge."
Bill Wittenmyer is a Partner at ELEAD1ONE, and his presentation is entitled "Increase Profits by Improving Internet and BDC Follow-up Strategies."
The conference is sponsored by Cactus Sky Communications, CreditMiner, Dealer e-Process, DealerLegion, DealerSocket, Dealer Synergy, Dealertrack Technologies, Dominion Dealer Solutions, ELEAD1ONE, Hospitality Defender, Now Marketplace, and TRUECar.
For more information about the conference, and to register, please visit http://www.zieglersuperconference.com, or call Jim Ziegler directly at 1-800-726-0510.