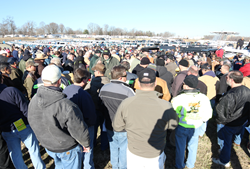 JJ Kane Auctioneers gives buyers many ways to bid on site, online or through absentee bid. There is never a reserve.
(PRWEB) July 17, 2014
J.J. Kane today announced the expansion of its Auction Services to include "Live Off-Site " and "Buy It Now". For more than 20 years J.J. Kane auctioneers has been a leader in the Public Auction Industry, conducting live auctions re-marketing surplus fleet equipment and vehicles across the US. Each year, they average one live auction per week at a different location every week. This year, they are focusing on supporting sellers needs; making it easy to participate by providing sellers an opportunity to put equipment up for auction regardless of the location of the equipment, with Live Off-Site. This new service enables sellers to experience the benefits of being a part of a live, physical auction without the expense of transporting items to the sale site. "Our Georgia auctions typically include 800 pieces of equipment on site, and during that auction, we include a large number of pieces selling from remote places like Dixon California," said Joe Kane, founder of J.J. Kane Auctioneers.
Additionally, sellers have the choice of making equipment and vehicles available to purchase immediately through J.J. Kane's online "Buy It Now" service, when an auction does not fit the seller's needs.
Many sellers choose to sell equipment Live Off-Site in tandem with one of the weekly on-site auctions. This gives the seller control over when they want to sell surplus without the worry of having to move it to a specified auction location. J.J. Kane works closely with sellers to evaluate equipment and publish the condition of equipment in addition to providing the opportunity to inspect before the auction begins, regardless of the location. This has been a huge success and a wonderful alternative to the traditional on-site bidding which requires that the seller's items be physically present at the auction sale on the specified date.
Bidders have become increasingly more inclined to bid online, even for items located on site. The process is simple, they create an online account and search for equipment in an upcoming auction. They then have the option of listening to the auctioneer live while bidding on items in real-time.
About J.J. Kane
J.J. Kane Auctioneers was founded more than 20 years ago by Joe Kane with a goal of providing the best process to serve our customers, anchored on a foundation of family, strong values and relationships. These values carry on, today, making J.J. Kane one of the most successful auction companies serving buyers and sellers of used equipment in the U.S and across the globe. At JJ Kane, we connect buyers with the equipment they need through our simple process where you can buy or sell in person, on site or online. The sellers benefit from a convenient and cost-effective way to sell equipment and fleet vehicles at market value. Buyers like the fact that they can kick the tires and inspect vehicles and equipment personally prior to the auction," says Joe Kane, founder of J.J. Kane Auctioneers.