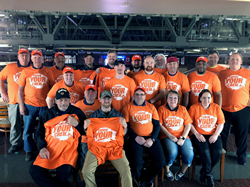 MCCONNELLSBURG, Pa. (PRWEB) May 30, 2019
JLG Industries, Inc., an Oshkosh Corporation company [NYSE:OSK] and a leading global manufacturer of aerial work platforms and telehandlers, has announced Erie Events as a first-place winner of the JLG® "Crews Across America" sweepstakes. The organization was chosen among hundreds of qualified entries from crews who entered the contest since its kickoff January 1st.
Erie Events is the hub of four distinct businesses connected to the Erie, Pa. downtown entertainment and cultural district, including the Bayfront Convention Center, Erie Insurance Arena, UPMC Park and the Warner Theatre. In 2018, the four locations hosted approximately 730,000 guests at 800 unique events, according to the company's annual report.
"The visit and recognition from JLG was an honor for our team," said Ed Snyder, assistant director of facilities for Erie Events. "For a company of JLG's size and global presence to take time to visit with our team, it's a testament to the value they place on interfacing with end users and gathering feedback about their equipment."
Snyder and his team regularly use JLG equipment to keep their facilities running for thousands of weekly visitors to the various sites. In addition to owning boom and scissor units that primarily support indoor maintenance and event preparations, the crew regularly rents larger lifts for a variety of applications.
"Our needs are year-round and varied," added Snyder. "From multiple sporting events, concerts, graduations and other indoor events at the arena, to a variety of conferences and trade shows at the convention center, our team is hustling all the time—there is no downtime. And with some major construction projects getting ready to start in 2020 at the theatre and baseball complex, we'll be keeping our rental market very busy."
Two crews are being selected monthly through December, for a total of 24 winners. All members selected for recognition will receive great giveaways, including hats, t-shirts and other JLG branded gifts, with one winning crew each month receiving an onsite catered lunch hosted by JLG team members. Additionally, winners will be recognized through JLG's social media channels, where their stories can be tracked by following #CrewsAcrossAmerica.
Nominations for "Crews Across America" can be entered online at http://www.choosejlg.com. The site features details for entry and includes a "Crew Tracker" map to follow where crews are being recognized across the United States.
For more information about JLG, visit the company website at http://www.jlg.com or, for additional information about the contest please visit http://www.choosejlg.com.
About JLG Industries, Inc.
JLG Industries, Inc. is a world-leading designer, manufacturer and marketer of access equipment. The Company's diverse product portfolio includes leading brands such as JLG® aerial work platforms; JLG and SkyTrak® telehandlers; and an array of complementary accessories that increase the versatility and efficiency of these products. JLG is an Oshkosh Corporation company [NYSE: OSK]. For more information about JLG Industries, Inc., visit http://www.jlg.com, or find us on Twitter, Facebook, LinkedIn, Instagram and YouTube.
About Oshkosh Corporation
Founded in 1917, Oshkosh Corporation is more than 100 years strong and continues to make a difference in people's lives. Oshkosh brings together a unique set of integrated capabilities and diverse end markets that, when combined with the Company's MOVE strategy and positive long-term outlook, illustrate why Oshkosh is a different integrated global industrial. The Company is a leader in designing, manufacturing and servicing a broad range of access equipment, commercial, fire & emergency, military and specialty vehicles and vehicle bodies under the brands of Oshkosh®, JLG®, Pierce®, McNeilus®, Jerr-Dan®, Frontline™, CON-E-CO®, London® and IMT®.
Today, Oshkosh Corporation is a Fortune 500 Company with manufacturing operations on four continents. Its products are recognized around the world for quality, durability and innovation and can be found in more than 150 countries. As a different integrated global industrial, Oshkosh is committed to making a difference for team members, customers, shareholders, communities and the environment. For more information, please visit: http://www.oshkoshcorporation.com.
®, ™ All brand names referred to in this news release are trademarks of Oshkosh Corporation or its subsidiary companies.
Forward-Looking Statements
This press release contains statements that the Company believes to be "forward-looking statements" within the meaning of the Private Securities Litigation Reform Act of 1995. All statements other than statements of historical fact, including, without limitation, statements regarding the Company's future financial position, business strategy, targets, projected sales, costs, earnings, capital expenditures, debt levels and cash flows, and plans and objectives of management for future operations, are forward-looking statements. When used in this press release, words such as "may," "will," "expect," "intend," "estimate," "anticipate," "believe," "should," "project" or "plan" or the negative thereof or variations thereon or similar terminology are generally intended to identify forward-looking statements. These forward-looking statements are not guarantees of future performance and are subject to risks, uncertainties, assumptions and other factors, some of which are beyond the Company's control, which could cause actual results to differ materially from those expressed or implied by such forward-looking statements.