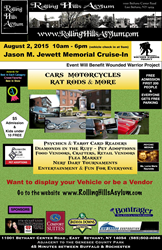 The Jason M. Jewett Memorial Cruise-In honors his memory by highlighting his greatest joys, cars, dogs, and the Wounded Warrior Project.
East Bethany, NY (PRWEB) June 15, 2015
On August 2, 2015 the Jason M. Jewett Memorial Cruise-In at Rolling Hills Asylum in East Bethany, NY will be an all out family friendly event to addition to the Cruise-In, there will be pet adoptions by Diamond's in the Ruff, psychics, tarot card readers, vendors of all kinds, food trucks, Nerf Dart games, entertainment, and a WWP fundraising auction, and so much more! Come on out and see vehicles of all eras, styles, and types including Antique Cars (pre-1940's), Choppers, Motorcycles, Rat Rods, Special Interest/Kit Cars, Stock Muscle Cars, Super Tuners, Trucks, Vintage Cars (1950/1970) or come and show your pride and joy for a chance win one the many awards including those for Best in Each Category, Crowd Favorite, and Best in Show! Sponsors include Batavia Downs, Bontrager Real Estate and Auction Services,
Comfort Suites (Dick Road, Cheektowaga), Kidd-Luukko Corporation, and DTM Wicked Radio.
"The August 2, Jason M. Jewett Memorial Cruise-In is a wonderful blend of activities honoring Jason's memory by highlighting three of his greatest joys in one event- cars, dogs, and the Wounded Warrior Project. This event will benefit so many who risk and lose so much in an effort to keep all of us safe. I'm thrilled to be able to honor Jason's memory by hosting this event at a place that was near to his heart, Rolling Hills Asylum," stated Ms. Coyle. If you are interested in being part of this exciting event, either by showing your vehicle, being a sponsor or vendor, making a donation to the auction, attending the days festivities or just have questions, please contact us here via the website http://rollinghillsasylum.vpweb.com/Cruise-In-for-Wounded-Warrior.html."
Sharon Coyle, owner of Rolling Hills Asylum has spent the last five plus years of her life helping to honor all of those less fortunate who passed through the doors here at the former Genesee County Poor House/Genesee County Infirmary. Sharon's career prior to owning Rolling Hills Asylum includes working with non-profit organizations such as The Untied Way and the March of Dimes, as well as many years in various capacities of film and television production. Bradley Polle has hosted numerous successful fundraisers including the 2014 fundraiser for Siren, the Livingston County Fire Education Dog, which yielded over $5,000.00
A former Rolling Hills Asylum volunteer and dear friend, Jason Jewett was a Federal Agent at the Immigration Customs Enforcement & Deportation facility in Batavia, NY along with being one of 13 instructors for the Special Response Team. He loved his job as an agent. Jason raised Siberian Huskies, was an avid car enthusiast and enjoyed doing roofing projects. In fact, Jason answered an SOS call for help with repairing a roof at RHA and this is how we became fast friends.  His love and support for me and Rolling Hills Asylum along with his camaraderie with the other RHA volunteers will never be forgotten. Sadly, Jason passed on August 30, 2013 away due to injuries sustained in a non-work related motor vehicle accident. Jason was a patriot who loved his country, especially the Wounded Warriors Project.
Rolling Hills Asylum in East Bethany, NY - just 15 minutes from Batavia and 45 minutes between Rochester and Buffalo, was originally opened in 1827 as The Genesee County Poor House.  In 1938 the county added a hospital to the facility - the Genesee County Infirmary, and in 1964 converted the property to the Genesee County Nursing Home, or as the locals lovingly referred to it as  "the old county home" until its closing in 1974. Steeped in nearly 200 years of history, mystery and mayhem, today, Rolling Hills Asylum is reputed to be the most haunted asylum in the USA and has been featured in numerous films and television shows such as Syfy's Ghost Hunters, Travel Channel's Ghost Adventures, and Destination America's Ghost Asylum.  Rolling Hills Asylum offers Historical or Flashlight tours, public or private ghost hunts, horror movie nights, car shows, and dozens of other special/celebrity events!  We are open year round, even in the winter!  Please visit our website at http://www.RollingHillsAsylum.com for more information or  you may also leave us a voice message at (585)502-4066 and we will happily return your call.
About Wounded Warrior Project TM
The mission of Wounded Warrior Project™ (WWP) is to honor and empower wounded warriors. WWP's purpose is to raise awareness and to enlist the public's aid for the needs of injured service members, to help injured servicemen and women aid and assist each other, and to provide unique, direct programs and services to meet their needs. WWP is a national, nonpartisan organization headquartered in Jacksonville, Florida. To get involved and learn more, visit woundedwarriorproject.org.