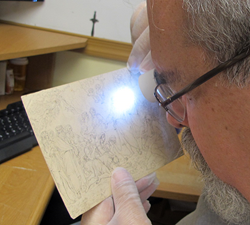 I stumbled on this one I had a feeling it was something special.
Eastern Shore, DE (PRWEB) July 24, 2014
Estate Auctions Inc. is pleased to announce a rare opportunity to own a one of a kind original pencil drawing by world renowned artist Joseph Mallord William "J.M.W." Turner. The original pencil on paper drawing/study of the painting, "St Paul Preaching to the Britons" by John Hamilton Mortimer was obtained through a liquidation of an estate which was at one time owned by a collector of fine art. At the time of purchase it was almost impossible to verify the legitimacy of the drawing due to its framing, however after the acquisition, it was clear, according to research and the opinion of other professionals, that it was a true original.
J.M.W. Turner was known for making sketches of paintings in the many museums, galleries and private collections he had the good fortune of visiting. He also became a full member of the Royal Academy in 1802 which incidentally is the exact date of the watermark appearing in the hand-laid paper on which the sketch was done.
"We literally deal with thousands of pieces of art every year and coming across something like this is almost too exciting to express. We have consignors bring us pieces that are obviously high quality and then we discover through our research that in fact we have a special piece of art, it's just amazing. When I stumbled on this one I had a feeling it was something special. We sold an original J.M.W. Turner years ago which made us familiar with his work. So as you could imagine, I couldn't wait to get to the research and see what we had. The supporting evidence to the authenticity was even better than I suspected. Someone is going to get a one-of-a-kind treasure with the winning bid" says Norb Novocin, owner of Estate Auctions, Inc.
The auctions closes Monday, July 23rd at approximately 9:30 PM EST. A high resolution version of the 6 1/2" x 4 1/2" drawing can be seen here.
Rare and valuable antiques are the norm for the Novocin's. They continue to satisfy the taste of a loyal customer base and have even published a book about these experiences. Getting Sold On Ebay, The Treasure Hunter's Guide To Making Money, which has received stellar reviews and is receiving national attention.
To learn more about the Novocins and Estate Auctions, Inc. visit them on eBay, user ID EstateAuctionsInc, join them on Facebook or follow them on Twitter @KnowsEbay. Do you have a valuable antique you would like to sell on eBay? Call for consigning information at 1-800-573-3508. You can find their new book Getting Sold On Ebay, The Treasure Hunter's Guide To Making Money on eBay or Amazon.com.