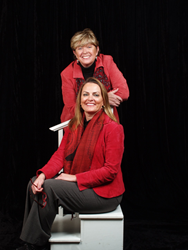 We are honored that we have won this award for the fifth year in a row. It is a valuable recognition that we can't buy.
Denver, CO (PRWEB) January 26, 2017
Five Star Professional is pleased to announce Joan Toohey and Rochelle Faraco of Metro Brokers Real Estate have been chosen as two of Denver's Five Star Real Estate Agents for 2016.
"We are honored that we have won this award for the fifth year in a row. It is a valuable recognition that we can't buy. To receive it means that our clients are highly satisfied with our work ethics and our professionalism as well as our ability to help them buy or sell their home," said Joan Toohey.
Five Star Professional partnered with 5280 magazine to recognize a select group of Denver-area real estate agents who provide quality services to their clients. Less than 7% of real estate agents in the area were selected. Joan and Rochelle were featured, along with other award winners, in a special section of the September issue.
"We love to help our clients achieve their dreams, whether it's buying or selling. Real estate is going to be the most expensive investment most people make in their life. We honor that. When we can find a buyer's dream home, we are as excited for them as they are. We work hard to get fantastic offers on the sale of our seller's home. We love when we can achieve the goals on both sides of the table," said Joan.
The Five Star Real Estate Agent award program is the largest and most widely published real estate agent award program in North America. Agents are measured using an objective, in-depth research methodology with significant focus on customer feedback and overall satisfaction.
"Our list of local Five Star Real Estate Agents can be an invaluable resource for anyone looking to buy or sell a home. These agents are exceptional in their field and their commitment to client satisfaction; and are right in your backyard," Dan Zdon, CEO, Five Star Professional.
"We are Realtors who understand that where you live is a fundamental factor in quality lifestyle. Both Rochelle and I are active members in our community who have personal missions to do more. We've made it our mission to stay on top of the current markets, understand and be able to identify our clients' needs and desires and match those to their ability to purchase the best properties in their desired parameters. Rochelle and I are Graduates of the Real Estate Institute, have earned the National Association of Realtors® Seniors Real Estate Specialists designation. I also hold the Certified Residential Specialists Realtors® designation which less than 6% of Realtors® across the country have been awarded," said Joan.
About the research process:
Now entering its 14th year, Five Star Professional conducts in-depth, market-specific research in more than 45 markets across the United States and Canada to identify premium service professionals.
Five Star Professional contacts thousands of recent homebuyers to identify award candidates. Phone, mail and online respondents rate their real estate agent on 10 satisfaction criteria. Candidates with a qualifying client satisfaction rating move on to be evaluated on objective criteria such as experience, production levels and disciplinary and complaint history.
Real estate agents do not pay a fee to be considered or awarded. For more information, visit http://www.fivestarprofessional.com.