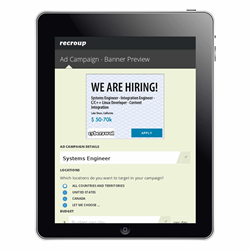 The best candidates are always employed. You must find them where they spend time and not on job boards.
Thunder Bay, Ontario (PRWEB) November 06, 2014
Recroup released its new job ad platform with which companies can reach talent anywhere on the web. Recroup allow recruiters to generate a banner ad from their regular job posting and display it all over the web.
Nearly 70% of candidates never register on a job board and 0% goes to a job board because of boredom. People go to sites where they consume and share information. Sites like Mashable, New York times, USA Today etc. are the places where people spend huge amount of time. This is one reason that jobs on traditional job boards to not get good response. With Recroup's new ad platform recruiter can promote their jobs to almost anyone anywhere on the web.
In simple words, Recroup is Google Adwords for Job Postings. Recruiters can create a campaign in 3 simple steps. With our display network recruiters can target audience from major media sites all over the web.
● Recroup has a passive database of nearly 2 Million candidates
● Recroup Ad platform is built on Google Adwords that gives our customers largest audience.
● Recruiters can target audience based on Location, interests, skills etc.
● Recruiters only pay when someone clicks on job ads. Recroup charges 15% of campaign cost as set-up fee.
● Recroup allow companies to create challenge. These challenges help companies identify candidate's skills.
● Recroup profile has deep integration with applicant's social media accounts, which provide company's meaningful stats about the candidate and still protect their privacy.
About Recroup: Recroup is a job ad platform where recruiters can promote their jobs to the largest audience possible. Recroup converts a traditional job positing into a banner ad and publish it all over the web. Job posting is free, companies pay when someone clicks on the banner ad.