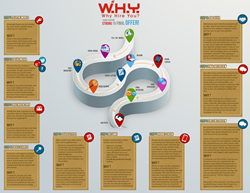 Knowing what to do and when, helps candidates stand out during interviews, avoid mistakes and get the offer that they want.
Philadelphia, PA (PRWEB) May 06, 2015
As the college graduation season quickly arrives, it is poised to send a new wave of graduate hopefuls into the job market. While the economy has shown promising signs of recovery, there are still plenty of folks who are unemployed or who have dropped out of the workforce altogether. Why Hire You LLC - founded by a group of working human resource professionals - is releasing a suite of resources to help those looking for their first career break or to make a job change, stand out from the competition and get hired faster.
New college grads or the collective age group commonly referred to as millennials, represent the largest group of those who are underemployed or who can't find work at all. According to US Census: Young Adults Then and Now report, 65% of people ages 18-34 are employed, leaving 35% or more than 23.4 million unemployed or underemployed. What is most interesting is that millennials are the most educated generation by far, with 14.7 million young people holding a college degree.
While there are plenty of jobs becoming available each day, the process of finding candidates that are a "right fit" for the role and the organization can often slow to a crawl. Applications pile up as organizations have to prioritize their time and people resources, leaving some positions vacant for many months. Those looking for their first break or to take advantage of an economic uptick to make a change, regularly find the job search process the most frustrating and look for every advantage that they can get.
While there is never an easy solution to such a complex problem, perhaps there is a starting point that begins with a bit of bridge-building. People need jobs and organizations need great people to work for them. When hiring managers post positions, they often have their pick of who to choose from so it is really on the candidate to stand out—but how can someone do that if no one from the inside has given them a clear cut formula?
With a stroke of a few keys, the internet is full of countless resources for job seekers and that can be helpful or overwhelming depending on your viewpoint. However in an ideal world, people who want positions would get their hands on the need-to-know information directly from those who make hiring decisions every day. According to Bethany Mangin, a Director of Human Resources at a large senior living campus in Philadelphia, "Knowing what to do and when helps candidates stand out during interviews, avoid mistakes and get the offer that they want, instead of taking a "one-size fits all" approach to a job search."
In an effort to support talented millennials and others who are looking for a new position, a group of hiring managers have put together a portfolio of resources to help pull back the curtain on the process of getting hired. They are available as complimentary tools through whyhireyou.com.
Job seekers need every advantage they can get to reduce the amount of time it takes to get the position that they want. While there is no shortage of available advice on job hunting tips and tricks, perhaps it makes the most sense to tap into insights from those who are actively making hiring decisions every day. A simple change in thinking or approach may result in receiving that coveted job offer sooner than later.
About Why Hire You
Founded in 2013 by a group of working human resources professionals, Why Hire You delivers simple but powerful information that is free to job seekers. Through http://www.WhyHireYou.com those looking for insights can watch a free workshop with materials included, download an end-to-end road map filled with tips and even interact with hiring managers.