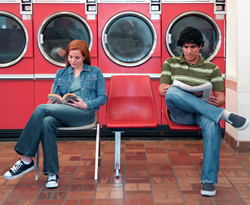 'Nothing sucks more than having to do laundry too often,' says JocksNTees.
Seattle, WA (PRWEB) August 14, 2014
"Nothing sucks more than having to do laundry too often," says JocksNTees in their recently released article disclosing seven college laundry tips for college students who are looking for a more time-efficient method for washing their clothes while away at college.
The first of their seven clever tips is to actually stock up on socks and underwear. While this may seem counterproductive at first, the fact is that most young men have a small supply of underclothes that require washing on a consistent basis.
A good stock of socks and underwear means that they're required to do laundry far less often.
A two or three weeks' supply of socks, underwear, and t-shirts means that they'll have enough underclothes to tide them over for quite sometime until they must do their next batch of laundry.
JocksNTees makes stocking up incredibly easy for college students through their underwear, t-shirt, and socks subscriptions.
"Here at JocksNTees, we carry major brands and styles of underwear, socks, and t-shirts," they say. "Simply subscribe to receive a given number of pairs of underclothes at the frequency of your choice."
To learn more about JocksNTees' underclothes subscriptions, visit: http://www.jocksntees.com/about-us.html.
Among the other laundry tips are recommendations such as secretly hoarding quarters, using stain-fighter spray, and laying the shirts flat after they are finished drying.
One of the most important of their suggestions is to separate the white clothes and colored clothes. "If you don't want all of your white socks and underwear turning pink because you washed them with your lucky red shirt, then take the time. It could save you a lot of embarrassment," they say.
About JocksNTees JocksNTees is an underclothes subscription company that allows men to subscribe to monthly, quarterly, or yearly underclothes subscriptions. Subscribers are able to select the brand, style, and size they need and sign up for recurring orders through JocksNTees, solving the inconvenience of underclothes shopping altogether. For more information about this handy service, simply visit http://www.jocksntees.com.