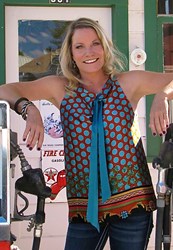 American Hot Rod Celebrity Jo Coddington to Sign Autographs at Champion Booth #25221 During SEMA Show
Las Vegas, NV (PRWEB) November 01, 2013
"I was napping on a creeper as a kid," said Jo Coddington. "My father and other family members had been in the automotive business all their life. I raced go-karts and, with the aid of two pillows, could drive the family's '53 Chevy at the age of 12, and then aced sand-rails in hill climbs and other speed events."
Jo's enthusiasm for all things motorized has taken her down the path of the Hot Rod Industry and landed her as an unlikely expert in the field. She took business and investment classes at Arizona State University and landed a job as an investment-advisor, which she credits for her business savvy. Later, working with her iconic car builder husband, the late Boyd Coddington, she became an integral part of the operational management and success of the business, plus the knowledge and education being around Boyd really fine-tuned her understanding of the Hot Rod Industry.
"It's amazing. Today, Jo continues to wear many hats. First and foremost, she is the dedicated keeper of Boyd Coddington's legacy. She travels the country on Boyd's behalf doing numerous speaking engagements, trade shows, and motorsports events", said Karl Dedolph, Director of Performance and Racing Products at Champion Oil.
"Her entrepreneurial spirit has Jo moving in many exciting directions," added Dedolph. "She is perhaps most passionate about her design work. Working on her own innovative designs and builds she finds Boyd's voice and influence at the heart of her work, which keep Boyd's legacy alive. Today with all her projects, Jo Coddington is truly making her mark on the Hot Rod and Automotive industries." http://jocoddington.com/
Champion Racing & Performance Motor Oils are "Purpose-Built" for use in all competition and race engines, especially those using flat tappet or roller cams operating at high RPMs and requiring high-pressure valve springs.
Champion Racing & Performance Motor Oils contain high zinc and phosphorous formulas designed to deliver the correct balance of chemistry to protect high performance engines. These products also contain Champion's proprietary TVS® (Thermal Viscosity Stabilizer), which extends oil film capacity for better protection at high temperatures and contain special lubricity modifiers to reduce friction and unlock the full potential of any engine.
These semi and full synthetic racing oils are offered in a popular range of viscosity SAE grades and formulated to meet the demands of most of today's high performance and race engines, producing measurable increases in compression, horsepower and torque.
The Specialty Equipment Market Association (SEMA) founded in 1963, represents the $30 billion specialty automotive industry with over 6,500 member-companies. It is the authoritative source for research, data, trends and market growth information for the specialty auto parts industry. The industry provides appearance, performance, comfort, convenience and technology products for passenger, diesel, racing and recreational vehicles. The annual "Industry Only" trade show is held every November in Las Vegas. For more information, contact SEMA at 1575 S. Valley Vista Dr., Diamond Bar, CA 91765, or visit http://www.sema.org
About the company: Champion Brands, LLC, is a globally recognized industry leader in specialty lubricants for over 57 years. Champion also produces and blends over 350 products including fuel, oil, engine additives, and lubricants for the automotive, heavy truck, racing, performance, agricultural, industrial, and specialty markets. For more information about Champion; contact your nearest Champion distributor, or call Champion at 800-821-5693. Champion Brands, LLC; 1001 Golden Drive, Clinton, MO, 64735 or go to http://www.championbrands.com
###