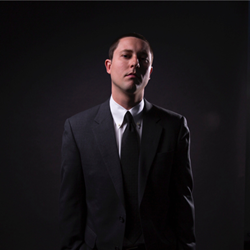 I don't pretend to be a thug or a gangster. I am who I am: A 28 year old guy from a good neighborhood that thinks a lot about the state of the world, and how we can make it better."
Cleveland, TN (PRWEB) December 01, 2015
How does a small town kid make his way from the baseball field to a stage at Austin's SXSW Festival? Just ask rapper Joe Black.
"Baseball was my first love," said Black, who grew up in a small East Tennessee town not far from the Smoky Mountains. "I played all the time. But in the back of my mind I always thought, 'If baseball doesn't work out, I'll become a rapper.' That might sound crazy, but it's true."
Black was invited to join the baseball team at Carson Newman University in Jefferson City, Tenn., where he played shortstop for two years, but a professional sports career didn't seem likely.
That's when Black picked up the mic and started crafting rhymes.
"You could call me a late bloomer," says Black, who first began rapping publicly at age 21. "But I was always rapping. I rapped from an early age, maybe 13-14, whether it was reciting an artist's lyrics that I had memorized, writing my own lyrics in a notebook in class, or just free-styling with friends. But after college, I began to take things more seriously and started to dabble in writing and recording my own lyrics."
Black found that rapping gave him the outlet he was looking for.
"I found that rapping was the best way to express myself, and I wanted to stay true to who I was. I don't pretend to be a thug or a gangster. I am who I am: A 28 year old guy from a good neighborhood that thinks a lot about the state of the world, and how we can make it better."
After writing and performing for a few years, Black knew that he wanted to take his music to the next level. That's when he teamed up with Billboard and Stellar Award winning producer, J. Rhodes. Rhodes has worked with award-winning artists like The Game, Talib Kweli and Lecrae.
"There is nothing like working with an artist that has that 'it factor,'" said Rhodes. "Actually creating with him in the studio in Atlanta showed me firsthand the depths of his talent. He has the lyricism and content to catch the true hip-hop fans, but also the commercial appeal to grab the attention of the masses. I can't wait for the people to hear his story."
The result of Rhodes' and Black's creative collaboration is JOE BLACK, a self titled album that reflects Black's down to earth roots and slick vocabulary in seven tracks about life in a small, Southern town.
With the release of his album, Black is now returning his focus to performing. He recently played the South by Southwest festival in Austin, and is booking more dates to perform his new release live.
"While I'd love to perform for a living, I'm not in this for the money." Says Black. "What I really want is to create the best music I am capable of and turn people into fans."
For more information, please visit:
To inquire about bookings, please email:
info(at)crusaderrecords(dot)com