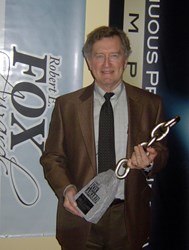 Miami, FL (PRWEB) August 04, 2013
The New Business of Paradigms shattered views of what Carlton's Training clients thought could be achieved in the future. The program itself became a crystal ball into which companies began to look for answers to solve their business issues. Solutions in the future help dictate how companies can respond and react to present change. The future is being created today by innovations from companies thinking tomorrow strategy. The New Business of Paradigms is just one of the programs Carlton's Training is rolling out to help organizations use innovation to create a brighter future for their companies.
Joel Barker inspires so many people for his way of pulling the curtain back and showing companies where they can be in five years or twenty-five years. Every company needs to constantly be transitioning into the future by making adjustments today. Imagine if people hadn't invested in the telephone or adjusted to the computer and kept everything in file cabinets? Not only does Joel Barker understand that there is something lost there but what the great power of adjustment brings is newer innovations off the old ones. For where would the cell phone be if there were no telephone or cordless phones ever created?
The Power of Vision is a great training video from Joel Barker that demonstrates that so many achievements if not all of them have to begin in the mind. The power to be able to see what the innovation or creation needs to accomplish is one important aspect. But to be able to see the innovations that will most certainly come from that innovation is amazing. It's like seeing the internet while constructing the database for the original desktop computer. Seeing the many various transitions from desktop to something more portable to something smaller until it can fit into a pocket is astounding. And now that computer is combined with you guessed it. A cell phone.
Barker has an amazing imagination and ability to see these transitions in the business world. In any Joel Barker video there is that spark that is like a great idea that leads to others that change the world. Barker goes through a lot of historical data and examples to deliver his interpretations of how the next generation of ideas will succeed these and how. Specifically his program Leadershift dazzles in its ability to demonstrate to managers that even the way they coach and lead employees needs to be adjusted for the future workplace.
Carlton's Training sees how The New Business of Paradigms can in itself be a paradigm shift and game changer for companies. Its examples are poignant and elaborate and demonstrate how ideas and innovations influence all organizations around the globe. Change management will never be the same. To view an online preview of The New Business of Paradigms or see other programs from Joel Barker, click here on their site at Carlton's Training.