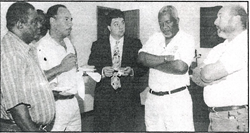 I am concerned that the poor will fare the worst, at least in the short term, so the Government must be aware of this and ensure that this doesn't happen.
(PRWEB) March 28, 2014
Chairman of Cool Group of Companies, Joe Issa, says in an interview following the ratification by the Senate of the Fiscal Rule Bill on Friday March 22, that as the Government seeks to implement the much-needed long-term measure, consideration must be given to the poor to ensure that they are not further marginalized in the short term.
"I support the Bill as it forces us to begin limiting our spending and reducing our debt burden; this is long overdue and will make the country more attractive to local and foreign investors, without whom economic growth and job creation cannot be achieved, so Jamaica will benefit in the long term.
"But while spending cuts should affect everyone equally over the decade-long journey to cap Jamaica's debt, as a requirement for IMF (International Monetary Fund) support of the economic reform programme, I am concerned that the poor will fare the worst, at least in the short term, so the Government must be aware of this and ensure that this doesn't happen," says businessman and philanthropist, Joe Issa.
The Government's news agency, Jamaica Information Service, confirms that the Fiscal Rule legislation, which will be implemented from this year onwards, "aims to limit the annual fiscal deficit of the public sector (covering all fiscal activities), to achieve a reduction in public debt to no more than 60 per cent of GDP by 2025."
A Certified Public Accountant, Issa explains, "Already, the $10 million shortfall in revenue in the 2013/14 budget will not be met by borrowing as was customary, but instead by cutting expenditure by the same amount to derive a balanced budget, consistent with the aim of the Fiscal Rule legislation just passed, and we can expect this to continue into the 2014/15 budget and beyond, thereby achieving annual budgets that are sustainable," says Issa, reiterating that care will have to be taken to ensure that the poor is not hurt."
A noted economist in the Ministry of Finance and Planning says in an interview, "In theory, with successive cuts in government spending over time, it is plausible that poor people can be disadvantaged in the short term, but in reality, they may not; we are also concerned and it is our job to ensure it does not become a reality."
An earlier IMF release says, "...To enhance sustainability of the reform agenda, fair burden sharing of the reform effort is essential. A central component of the program is the authorities' package of measures to promote social coherence that includes a floor on social spending, an improved social safety net, and programs to increase employment.
A lifelong philanthropist, Issa has given much to educating the poor over the years. In 1987, he founded the 'Educate the Children Fund' to help poor Caribbean countries with school books. The London School of Economics (LSE) where he was a student at the time, took the idea onboard and gave it a life of its own, according to issue No. 255 of LSE's paper, The Beaver and the February 5, 1987 issue of The Star.
A year later, Issa launched a scholarship fund to benefit a talented undergraduate Jamaican child once every four years, to attend his alma mater, Holy Cross College in Massachusetts, USA. He was commended in both the July 14 and 20 issues of the Jamaica Record.
Another major initiative is his "Global Education 2000", which benefits Jamaican schools by partnering them with their US counterparts. This was widely reported, including on page 3 of the Feb 6-12, 2000 issue of North Coast Times. His other interventions were reported in Outlook, Oct. 14, 2001, Jamaica Observer, Feb 21, 2002; and Daily Observer Tuesday Feb. 11, 2003.
Since then, as Chairman of Cool Corporation, a group of 'Cool' branded companies that cut across many industries, Issa has set up Cool Charities to give back largely in the education of those most in need, to empower them and subsequent generations for social and economic development, according to its website, http://www.coolcorp.com.