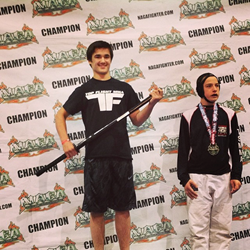 This Is So Awesome, I'm A Champion
Belcamp, Maryland (PRWEB) April 30, 2014
This past weekend, martial arts newcomer and 1st time competitor, Joey Severson of Top Flight MMA Academy competed at the world's largest grappling tournament in Morris Town New Jersey
Thousands of competitors flood Naga championships and this tournament was no different as competitors from all over came for there chance at Naga gold.
Even though Severson was brand new to martial arts competition scene, the moves and transitions he had worked diligently on at Top Flight MMA guided him to impressive submission victories and a gold medal. Severson submitted all is opponents on the way to winning 1st place in his division.
Excited about his accomplishment Severson had this to say about winning his division," I'm still in shock, I have never done anything like this. This is so awesome, I am a champion!"
Top Flight teen coach, Joey Stallings, had this to say about Severson," I am extremely pleased that Joey is enjoy is training and is taking well to the training and structure we have here at Top Flight. Its always awesome thing see when a kid starts to believe in himself and that's what I see in Joey."
For more information on the teen competition classes at Top Flight MMA Academy please contact the school.