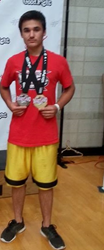 This is so awesome, I can't believe I did it. This Is so cool.
Belcamp, Maryland (PRWEB) June 30, 2014
This past weekend at the University Of Maryland College Park, The Brazilian Jiu-Jitsu and Submission Grappling Promotion, Good Fights held their grappling tournament, inviting the best submission athletes in the area from kids to adults.
Joey Severson, a new member of the Top Flight MMA teen program and Cecil County native, was in attendance and had his best competition performance to date. Severson is coming off an impressive performance at the NAGA championships in New Jersey, where he won gold, and at this past Good Fight tournament he kept the success on the mat rolling.
In his first match he submitted his opponent, winning the gold medal in the Teen Division. Then to experience a different challenge, Severson jumped up to the Adult white belt division (Severson is only 15 years old) where he submitted all his adult opponents. In the finals Severson met up with his teammate, another teen in the Top Flight MMA program, Jordan Stewart, and they played rock-paper-scissors to see who takes the gold medal.
In shock from his stellar performance, Severson had this to say, "This is so awesome, I can't believe I did it. This Is so cool"
Severson has only been training MMA and Brazilian Jiu-Jitsu at Top Flight MMA Academy for less than 6 months and is already showing a lot of promise in becoming world champion at the elite levels of competition. Severson's coaches say he is special potential and will make an excellent black belt one day.