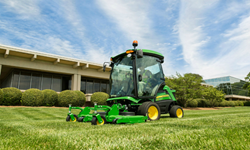 Hicksville, NY (PRWEB) July 24, 2014
John Deere is expanding its line-up of commercial front mowers, and Chief Equipment is the place to get one. This new line-up includes the 1500 Series TerrainCut Front Mowers. The series, which includes five new models, offers enhanced performance, comfort and versatility.
The new commercial front mowers offer four season capabilities with their climate-controlled cab, which offers HVAC, front work lights, turn signals, flashers, windshield wipers and tilt steering. The factory-installed comfort cab is available for select models.
These mowers are easy to use and offer a great range of uses. They can blow snow, cut all types of grass, wet or dry and clean streets and walkways.
More information about the new line-up of commercial mowers can be found at the John Deere website at http://www.deere.com/wps/dcom/en_US/corporate/our_company/news_and_media/press_releases/2014/residential/2014july1_frontmowers.page.
Chief Equipment offers the largest selection of John Deere equipment around. They are located at 400 W. Old Country Rd., Hicksville, NY 11801. For more information, call 516-868-1400 or visit their website at http://www.chiefequip.com/.
About the company:
Chief Equipment Inc., conveniently located in Hicksville, N.Y., has been family-owned and operated since 1995. With over 60 years of combined experience in the equipment sales and rental business, they offer the finest customer service and the largest selection of John Deere tractors and other premium brand equipment, parts and accessories in the New York City, Nassau County, and Western Suffolk County areas.
The parts department has over 100,000 of the most commonly utilized parts in stock, with overnight availability on hundreds of thousands more. Their first-class service department is the best place to bring used equipment; expeditious, quality service is their goal. From minor tune-ups and maintenance to major overhauls, their knowledgeable, certified mechanics can get equipment running quickly. Call or stop by for an appointment today.
For those in the market for a new piece of equipment, come in and speak to Chief Equipment's friendly and experienced Sales Department staff. They can get the right piece of equipment for the customer's needs at the right price. They also offer great financing programs for virtually all makes and models, including their quality pre-owned units.