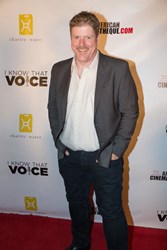 This is a tribute to all of my peers who, for years, even decades, have flown under the radar to the world. People love cartoons and are intrigued by the voices behind them. Why not expose their mysterious lives and hilarity?
Los Angeles, CA (PRWEB) November 25, 2013
While one of the world's most beloved robots, Bender, of the famed "Futurama" animated series, may speak his last words in an upcoming "Futurama/Simpsons" crossover episode in May 2014, it won't be the end of John DiMaggio, the voice behind the iconic character. As the series finale aired in September, DiMaggio geared up for the launch of his highly anticipated documentary, "I Know That Voice." Stepping into the shoes of executive producer, DiMaggio, alongside distinguished producer Tommy Reid and director Lawrence Shapiro, created a documentary that 'puts a face to the voices we all know and love.'
With more than a million combined YouTube views, over $24,000 raised for charity: water and the "I Know That Voice" world premiere, 4,000+ VIP list sign ups, and a standing-room-only celebrity panel at San Diego Comic-Con 2013, DiMaggio is proving that he has chops outside of the sound booth.
"When Lawrence [director] approached me in Europe with this incredible documentary concept, I had to make it happen," DiMaggio said. "This is a tribute to all of my peers who, for years, even decades, have flown under the radar to the world. People love cartoons and are intrigued by the voices behind them. Why not expose their mysterious lives and hilarity?"
"I Know That Voice" features 100-plus voice over actors including Emmy-nominated John DiMaggio (Adventure Time, Futurama, Kung Fu Panda: Legends of Awesomeness), Billy West (Futurama, The Ren & Stimpy Show), Seth Green (Family Guy), Jim Cummings (Winnie the Pooh), Andrea Romano (25-time Emmy nominated, 8-time Emmy winner for Animaniacs, Pinky and the Brain and more), Rob Paulsen (Animaniacs, The Looney Tunes Show), Maurice LaMarche (Team America, Futurama, Pinky and the Brain), and many more.
Fans can watch the film on Vutopia℠ from December 1-21. Vutopia℠ is a value-added commercial-free On Demand movie service that is part of "Movie Pass" on Time Warner Cable and Bright House Networks.
"I Know That Voice" will also be available everywhere on iTunes and digital and cable Video On Demand via global distribution partner GoDigital starting Jan. 7, 2014. Cartoon junkies, animation addicts and anyone who has ever been touched by cartoons are encouraged to buy or rent this film on iTunes. It's still not too late to be added to the "I Know That Voice" VIP DVD Pre-Order List, although the cut-off date is soon approaching. Fans can do now at http://www.iknowthatvoice.com.
Fans in the Midwest can also enjoy this heartfelt documentary on the silver screen at the Gateway Film Center from December 6-12.
"I was lucky enough to attend the world premiere with a lot of my childhood voice actors in attendance," said Mark Pacis, contributing writer for Nerd Reactor. "I felt as if I truly learned something by watching the film…the whole voice acting community is very close. The other thing I learned is that voice acting is truly an art form…Staying in character and doing that voice is what will separate you from everyone else. Can you do a Bugs Bunny voice while reciting Shakespeare, then be able to switch characters at the drop of a hat?"
John DiMaggio thinks "I Know That Voice" will go down in history as one of the greatest voice over films, giving millions of animation lovers across the globe a glimpse into the lives of these unsung heroes in the industry. "While I'm excited for Homer and Bender to come together in the "Simpsons/Futurama" crossover episode, I've accepted that it may be end of the robot, but its only the beginning of even more exciting opportunities that allow me to connect with people who love 'toons."
For exclusive photos, videos and news on "I Know That Voice," go to http://www.iknowthatvoice.com and http://www.facebook.com/iknowthatvoice, or follow the film on Twitter @iknowthatvoice, #iknowthatvoice. Check the documentary out on Instragram @iknowthatvoicemovie and #iknowthatvoice. Watch the trailer on YouTube at http://www.youtube.com/watch?v=xivQ6_gu3W8 and http://www.youtube.com/watch?v=yiSPvsTP02A. The full cast list can be found on IMDb: http://www.imdb.com/title/tt2113683/.
About the "I Know That Voice" Team
John DiMaggio, Tommy Reid and Lawrence Shapiro's combined chemistry and strengths came together to form the groundbreaking "I Know That Voice" documentary. Stated by Tommy as "a true labor of love," the film took two years to make, collected extensive interviews and compiled never-before-seen footage making "I Know That Voice" truly one-of-a-kind of its subject matter. Emmy-nominated and Annie award winner John Di Maggio is known for his iconic role as "Bender" in Futurama and "Jake the Dog" in Adventure Time, as well as his roles in The Penguins of Madagascar, Gears of War, Kim Possible and more. Tommy Reid is a renowned producer of films including Kill The Irishman, Americans, Superthief: Inside America's Biggest Bank Score, Danny Greene: The Rise & Fall of the Irishman and Strike. "I Know That Voice" Director Lawrence Shapiro directed films including Jam in the Dam, Los Lobos, Kiko Live, The Marshall Tucker Band: Carolina Dreams Tour and Blue Cheer: Rocks Europe.
GoDigital is a full-service Digital & Video on Demand (VOD) distribution company dedicated to acquisitions, sales, marketing and technical operations.
Launched in 2008, GoDigitial is now one of the industry's premier digital distribution networks. The company boasts more than 1,000 high-quality films from independent cinema to award-winning documentaries and foreign films.
About Vutopia℠
Vutopia offers hundreds of commercial-free movies available on TV and online, with new titles added each month. Called the "movie lover's ultimate destination," viewers can check out as many titles as they want, anytime, from a selection including Hollywood favorites, indie movies and documentaries. The titles are divided into cool categories based on "moods" making the search as much fun as the find. The channel is included with a "Movie Pass" subscription, which offers more than 20 favorite movie channels. Click for more info: Vutopia.