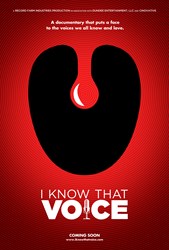 To wrangle 150 people was a difficult task... But we wanted to create a movie that entertains, enlightens and inspires people.
Los Angeles, CA (PRWEB) August 28, 2013
The dust has finally settled from San Diego Comic-Con 2013, but anticipation from comic fans to aspiring voice over artists for the new documentary "I Know That Voice" has reached an all-time high. Following its Comic-Con celebrity panel success, the first documentary of its kind to uncover the depth, excitement and mysterious lives and humor of more than 150 voice over actors, has stirred hype on social media sites including YouTube and Facebook with hundreds of cartoon voice imitation contest submissions, all in hopes of being hand-selected as someone that could become the voice over star.
Emmy-nominated executive producer John Di Maggio, also the voice of "Bender" in Futurama, "Jake the Dog" in Adventure Time, "Rico" in The Penguins of Madagascar and "Fung" in Kung Fu Panda: Legends of Awesomeness, officially crowned CJ Goss, Elizabeth Freeman and Ryan Bowden as the top three cartoon voice imitators in the contest. Winners will receive a copy of the DVD, signed by DiMaggio and a poster autographed by some of the "I Know That Voice" star cast.
Fans erupted as DiMaggio aired never-before-seen footage of the new documentary. With standing room only and an estimated 3,000 fans filling the room, the panel included cast members James Arnold Taylor (Johnny Test, Star Wars: The Clone Wars, The Doc Files), Rob Paulsen (Animaniacs, The Looney Tunes Show), Tom Kenny (Spongebob Squarepants), Dee Bradley Baker (Star Wars: Clone Wars, Ben 10, American Dad), Fred Tatasciore (Hulk, Ben 10, Mad), Andrea Romano (25-time Emmy nominated, 8-time Emmy winner for Animaniacs, Pinky and the Brain and more), Pendleton Ward (Adventure Time), Tommy Reid (Producer) and Lawrence Shapiro (Director).
DiMaggio unveiled that "I Know That Voice" has now strategically selected its global distribution partner by uniting with GoDigital Distribution. DiMaggio said he plans get the documentary on iTunes, Amazon, Xbox, Netflix, Hulu, Google Play, Vudu, Playstation, and potentially in theaters for a limited time in November. The film will be released to Video On Demand in December 2013 and will run at The Gateway Film Center in Columbus, Ohio, from Nov. 8, 2103 to Nov. 14, 2013. "We want to get this film in your hands as soon as possible," DiMaggio said.
With over 2,900 VIP List sign ups and DVD pre-orders, and more than one million combined YouTube trailer views, "I Know That Voice" will be sold by John DiMaggio himself at Dragon Con in Atlanta, Ga., from Aug. 30-Sept. 2.
Director Lawrence Shapiro said "I Know That Voice" covers the whole voice over industry. "To wrangle 150 people was a difficult task," he said. "But we wanted to create a movie that entertains, enlightens and inspires people."
"I Know That Voice" takes viewers on a voyage through the evolution of the voice over art form and how it has grown from radio plays to what it is today, complemented by emerging technology, said Producer Tommy Reid.
Tom Kenny believes voice actors rarely get the attention other notable on-screen actors achieve, including seeing their faces everywhere or in People magazine. "I wouldn't trade my career for anybody," Kenny attested.
"That's why we made the movie," DiMaggio responded, adding that its purpose is to expose these unsung heroes who helped create characters that brought lasting memories into the hearts of millions of people across the globe for decades. "… And if you don't love cartoons, there's something seriously wrong with you."
Narrowing down 160 hours of footage into 90 minutes, "I Know That Voice" producers are ready to bring the pent-up anticipation to a close and release the documentary to fans of all ages and places across the globe—starting at Dragon Con.
Appreciation and love from aspiring voice over artists and fans at Comic-Con filled the room. "Thank you guys very much for making my childhood not only full of light, but also full of color, happiness and fun," one fan said. "Thank you for giving me a childhood," applauded another.
For comic fans and aspiring voice over actors, it's still not too late to be added to the "I Know That Voice" VIP Pre-Order List, although the cut-off date is soon approaching. To add your name to the list, please do so at http://www.IKnowThatVoice.com.
For exclusive photos, videos and news on "I Know That Voice," visit http://www.iknowthatvoice.com and http://www.facebook.com/iknowthatvoice.
Follow the documentary on Instragram @iknowthatvoicemovie and #iknowthatvoice. Watch the trailer on YouTube at http://www.youtube.com/watch?v=xivQ6_gu3W8 and http://www.youtube.com/watch?v=yiSPvsTP02A. The full cast list can be found on IMDb: http://www.imdb.com/title/tt2113683/.
About the "I Know That Voice" Team
John Di Maggio, Tommy Reid and Lawrence Shapiro's combined chemistry and strengths came together to form the groundbreaking "I Know That Voice" documentary. Stated by Tommy as "a true labor of love," the film took two years to make, collected extensive interviews and compiled never-before-seen footage making "I Know That Voice" truly one-of-a-kind of its subject matter. Emmy-nominated and Annie award winner John Di Maggio is known for his iconic role as "Bender" in Futurama and "Jake the Dog" in Adventure Time, as well as his roles in The Penguins of Madagascar, Gears of War, Kim Possible and more. Tommy Reid is a renowned producer of films including Kill The Irishman, Americans, Superthief: Inside America's Biggest Bank Score, Danny Greene: The Rise & Fall of the Irishman and Strike. "I Know That Voice" Director Lawrence Shapiro directed films including Jam in the Dam, Los Lobos, Kiko Live, The Marshall Tucker Band: Carolina Dreams Tour and Blue Cheer: Rocks Europe.
GoDigital is a full-service Digital & Video on Demand (VOD) distribution company dedicated to acquisitions, sales, marketing and technical operations. Launched in 2008, GoDigitial is now one of the industry's premier digital distribution networks. The company boasts more than 1,000 high-quality films from independent cinema to award-winning documentaries and foreign films.