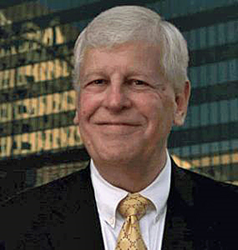 New bank rules enable failing banks to confiscate their depositor's money and convert it to bank stock
Los Angeles, CA (PRWEB) May 19, 2016
Few have heard of the bank headquartered in the 16-story glass and steel tower that soars into the ice blue sky above Basel, Switzerland. But the Bank for International Settlements (BIS) stands today as the most powerful bank in the world.
The BIS and its current "Bail In" agenda, which enables banks to convert their depositor's money to bank stock, has served as the basis for recent books by former banker and Hollywood money manager to the stars, John Truman Wolfe.
John Truman Wolfe felt it important to provide readers with information and a choice about alternative banks into which they could place their money – banks that, per his analysis, are safer, more secure and better managed.
Calling on his years of banking experience and hands on financial management expertise assisting some of the biggest names in Hollywood, Wolfe reviewed the balance sheets of banks from Maine to California and identified more than two dozen of the Best Banks in America.
Published for an easy PDF download https://johntrumanwolfe.com/product/the-27-best-banks-in-america/ or at Amazon in print http://www.amazon.com/27-Best-Banks-America/dp/0692707476 or digital download for Kindle https://www.amazon.com/27-Best-Banks-America-ebook/dp/B01FSUNS2I The PDF download and Kindle version are available for $3.99. The print version is $6.99.
Wolfe's research discovered the implementation of "Bail In" policy for all European banks on January 1, 2016 and Canadian banks on March 22, 2016. In December of 2012, the FDIC and the Bank of England issued a joint memo on how Bail Ins would work in their respective countries.
The material in Wolfe's new book gives readers ways to protect themselves by placing their funds in one of the 27 Best Banks in America.
About John Truman Wolfe - He is the creator and author of the award-winning Tom McKenna private eye series. Mr. Wolfe has been a senior credit officer for two California banks: one in the San Francisco Bay Area, the other in Beverly Hills. He is the co-founder of a prestigious Los Angeles-based business-management company where he oversaw the business and financial matters of some of the biggest names in Hollywood. His hard-hitting investigative journalism on international finance has gotten worldwide attention. Chinese government officials flew him to Beijing to consult with them. He spent several days in Beijing and did media interviews for Chinese Television. John Truman Wolfe calls his trip to China, "fascinating in the extreme." Mr. Wolfe has a Master's Degree with Honors from San Jose State University and is the former Chairman of the Department of History at John F. Kennedy University.
John Truman Wolfe
P.O. Box 6160
Altadena, CA 91003
Bruce(at)johntrumanwolfe(dot)com
http://johntrumanwolfe.com
Phone: 818-397-1401
Fax: 800-680-1452