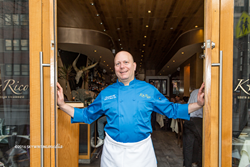 John achieved this "miraculous" unbroken chain of success – you guessed – through rigorous formal as well as on-the-job training, an innate love for what he does, and of course, good old-fashioned elbow grease.
New York, NY (PRWEB) June 30, 2016
Innovative & talented Executive Chef John P. Greco III has made Hell's Kitchen proud home to four of his five marvelous eating & drinking establishments.
John opened his first culinary venture, the immensely popular Philip Marie, in the West Village. Here, John created a menu characterized as New American cuisine, featuring New England inspired seafood, wild game from the American heartland, ragouts from the Bayou and more.
John subsequently created four distinctive venues, all in Hell's Kitchen. Each and every one of John's establishments attained instant & continued success. John achieved this miraculous unbroken chain of success through rigorous formal as well as on-the-job training, an innate love for what he does, and of course, good old-fashioned elbow grease.
A graduate of the Culinary Institute of America, Chef Greco is well-known throughout the restaurant communities of New York, Rome, Milan, Frankfurt, and Brazil. To supplement his formal skills, Greco headed for Europe working as a chef's apprentice in London, France, Italy & Germany honing his skills the old fashion way, learning Old World European techniques and rounding out his education. Upon his return to NYC Chef Greco was tapped as one of the chefs to open San Domenico, an Italian institution on Central Park South hailed as one of the 25 top restaurants in America. He gained further experience by working under some of the best chefs in NYC, including Master Chef Alain Sailhac, the world-famous culinary teacher with a place in the James Beard Foundation's Cookbook Hall of Fame, Executive Chef John Doherty of Waldorf-Astoria Fame, and Manhattan Top Chef and Food Network's "Chopped" Judge Geoffrey Zakarian. John also worked at such noteworthy establishments as San Domenico (NYC & Imola, Italy), Cipriani/Harry's Bar (NYC & Venice), Le Cirque and Torre di Pisa (NYC)where he gained further classical training and experience.
A New Jersey native, he fell in love with food and cooking at an early age, the moment he hosted his first BBQ at home. So Chef Greco's unique combination of formal skills, experience, innate love for good food, good drink, & good service plus plenty of hard work represent the magic formula for his repeated success. Of course the one element in Chef Greco's success that nobody can duplicate is Chef Greco himself. John is a warm, engaging, and scrupulously upright person whose integrity is beyond question. These qualities make him a trusted friend and business associate to everyone he deals with.
After his initial success with Philip Marie, John opened his subsequent four venues in Hell's Kitchen. First came Posh Bar on 51st between 9/10th Avenues, a neighborhood bar catering to the gay community. John Greco has remained a long-time friend and supporter of the LGBT community donating to many important causes like the Ali Forney Center, GLAAD and GOAL: Gay Officers Alliance League & more.
Next Greco launched the distinctive Bamboo 52 Restaurant & Lounge on 52nd Street between 8/9th Aves. This time, Chef John let his creative edge soar by combining New World American culinary concepts with traditional Japanese cuisine. Bamboo 52's menu boasts such original rolls as the Spicy Sushi Sandwich featuring Spicy Tuna, Avocado, Spicy Sauce, Roasted Sesame, Eel & White American Cheese.
Then came 123 Burger Shot Beer on 10th Avenue between 50/51st Streets, a sleek sports bar for the young and young at heart. Here, John provides quality food, an energetic wait-staff and a multitude of LED TV's plus a top of the line sound system. Yet, it's 123's deal that can't be beat: $1 sliders, $2 shots and $3 dollar beers.
Finally, we come to Chef Greco's latest culinary venture: K Rico on 9th Avenue between 51/52 Streets. A farm to table South American Steakhouse & Grill, K Rico opened in February 2015. Here Executive Chef Greco features genuinely ethnic dishes, spirits and wines from Panama, Chile, Argentina, and Mexico. Always painstakingly fastidious about his kitchen, John prepped extensively for the opening of this novel restaurant. He traveled throughout South America, researching local cuisine, produce, meats, restaurants, groceries, outdoor markets as well as interviewing residents. He came away with a vast store of invaluable knowledge enabling him to reproduce the various authentic regional flavors on K Rico's enticing menu.
K Rico serves up authentic South American cuisine accompanied with a fine selection of wines and specially-chosen piscos, mezcals, and tequilas. A special feature of the kitchen is the authentic plancha grill that will cook the wealth of fine steaks K Rico offers. The elegantly appointed restaurant boasts a spacious dining room, a beautiful patio garden for your outdoor dining pleasure and sidewalk seating in the springtime. K Rico rates as one of the top ten restaurants on TripAdvisor. Closed Monday. Sat & Sun Brunch: 10am-4pm; Tue- Fri Lunch: 11am-4pm; Tue-Sun Dinner: 5pm-12am.