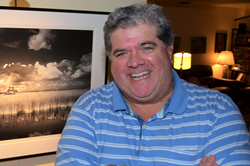 This award provides me with affirmation that my personal approach to real estate serves my clients well as they continue to refer me to their friends and family
Sarasota, FL (PRWEB) January 19, 2016
Five Star Professional is pleased to announce John S. Smith, Coldwell Banker Residential Brokerage, has been chosen as one of Sarasota's Five Star Real Estate Agents for 2016.
Five Star Professional partnered with Sarasota magazine to recognize a select group of Sarasota-area real estate agents who provide quality services to their clients. Less than 6 percent of real estate agents in the area were selected. John S. Smith is featured, along with other award winners, in a special section of the April.
"I was drawn to the real estate profession in my late 40s," says John S. Smith, Coldwell Banker Residential Brokerage. "I spent my prior professional life working in the relocation industry helping clients move from one community to another. My real estate clients experience so many of the same emotions that my prior clients did in the relocation industry. Therefore, I've been drawn to this profession for the same reasons I was drawn to my prior career…compassion and a desire to help people during major events in their lives. I am a really good listener and, in many cases, have shared similar experiences with my clients. I am relentless about seeing that transactions are closed properly and to everyone's satisfaction. I'm a tough negotiator on my client's behalf and am always striving to see nothing but smiling faces at closing."
The Five Star Real Estate Agent award program is the largest and most widely published real estate agent award program in North America. Agents are measured using an objective, in-depth research methodology with significant focus on customer feedback and overall satisfaction.
"This award provides me with affirmation that my personal approach to real estate serves my clients well as they continue to refer me to their friends and family," says John. "Their continued support means so much to me, and their loyalty keeps me focused on providing the highest level of service to all of my clients now and into the future."
"Five Star Professional's research is extensive, with more than 10 million consumers, peers and other stakeholders contacted each year. We are relentless in our efforts to identify those professionals with the utmost standard of excellence," says Jonathan Wesser, Research Director, Five Star Professional.
About the research process:
Now entering its 13th year, Five Star Professional conducts in-depth, market-specific research in more than 45 markets across the United States and Canada to identify premium service professionals.
Five Star Professional contacts thousands of recent homebuyers to identify award candidates. Phone, mail and online respondents rate their real estate agent on 10 satisfaction criteria. Candidates with a qualifying client satisfaction rating move on to be evaluated on objective criteria such as experience, production levels and disciplinary and complaint history.
Real estate agents do not pay a fee to be considered or awarded. For more information, visit http://www.fivestarprofessional.com.