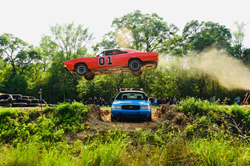 HOLDEN, La. (PRWEB) April 09, 2019
Nearly 10,000 fans descended on rural Holden, Louisiana over the weekend for John Schneider's 2nd annual Bo's Extravaganza. The 2-day fan event was held April 6-7 at John Schneider Studios, celebrating the 40th anniversary of The Dukes of Hazzard and John "Bo Duke" Schneider's birthday with live music on 3 stages, carnival rides, car stunts and explosions, celebrity appearances, bonfires, helicopter rides, a hood slide contest, incredible food vendors, a fireworks show to end each day and so much more.
Without a doubt, a major highlight of the weekend was a series of live car stunts coordinated by veteran stunt coordinator Jack Gill (Fast & Furious series, The Dukes of Hazzard, Knight Rider and more), including an incredible moment when John Schneider arrived by helicopter and thrilled fans by jumping the General Lee on Saturday afternoon.
Additional highlights included a special performance by multi-platinum recording artist Kid Rock, and two concert appearances by John Schneider and the Hazzard Nation Band, with skydivers diving into the event while Schneider performed his popular tribute to veterans, "Can I Buy You A Beer." Schneider and his partner Alicia Allain bought event tickets for all veterans and first responders, as well as their families.
Bo's Extravaganza also featured performances by Schneider's The Dukes of Hazzard co-star Tom Wopat, Whey Jennings, American Idol favorite Bo Bice, Trick Pony's Keith Burns, Thom Bresh, JoEl Sonnier, Beau Young, Confederate Railroad's Cody McCarver, Smith & Wesley, Christian Davis and more. Additional special guests included actor Butch Patrick (The Munsters), Lulu Roman (Hee Haw), and several of Schneider's co-stars on Tyler Perry's The Haves and the Have Nots, including Peter Parros, Gavin Houston and Angela Robinson.
The ultimate fan weekend also featured the Hazzard County Car Show & Parade — the largest car parade in the south featuring cars from The Dukes of Hazzard, Smokey & the Bandit, Knight Rider, The Munsters, The Love Bug, Scooby Doo and more.
A portion of the proceeds from Bo's Extravaganza will be donated to Children's Miracle Network.
While plans are already underway for next year's event, Schneider will keep busy with an upcoming Christmas movie, a new album project and extensive touring of new music throughout 2019. Download the free John Schneider app to keep updated on live events, new projects and more.
John Schneider Studios sits on a 58-acre property in Holden, Louisiana that offers camping, lodging, trails, ponds, bamboo forest, a 200,000 gallon swimming pool and more.
ABOUT JOHN SCHNEIDER: John Schneider's extensive acting career includes the iconic roles of "Bo Duke" on The Dukes of Hazzard, "Jonathan Kent" on Smallville and "Jim Cryer" on his current series, Tyler Perry's The Haves and the Have Nots - the #1 primetime series on cable on Tuesday nights. John is also a celebrated country music artist with 19 albums to his credit and 4 #1 singles on the Billboard Country chart. In 2018, he launched an ambitious 52-song project, The Odyssey, as well as the album projects Greatest Hits…Still and Merry Christmas Baby. In addition to his entertainment career, John co-founded the Children's Miracle Network - a non-profit organization that raises funds for children's hospitals, medical research, and community awareness of children's health issues. Founded in 1983, they have raised more than $4.7 billion dollars which is distributed directly to a network of 170 hospitals. For more information, visit the official website at JohnSchneiderStudios.com.
Official website for Bo's Extravaganza: BosExtravaganza.com