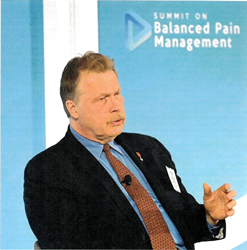 CHICAGO (PRWEB) December 09, 2019
John V. Prunskis, MD., co-founder and co-Medical Director of the Illinois Pain Institute, Presidential Appointee U.S. Department of Health and Human Services' (HHS) Pain Management Best Practices Inter-Agency Task Force (Pain Task Force) was a panelist at the sixth annual 2019 Summit on Balance Pain Management in Washington DC.
Hosted by the Alliance for Balanced Pain Management, the Summit highlights the benefits of integrated pain care and the barriers patients face in accessing it, as well as ideas to begin removing those access challenges.
Hearing from a variety of perspectives, attendees will understand the role of balanced pain management in the effort to reduce opioid abuse and the challenges presented to patients, physicians, regulators and policymakers when considering how to implement a pain care strategy that may include pharmacological, nonpharmacological, and new medical device technologies as therapies. Panelists will also discuss what balanced pain management really means, and how it can be used to better treat patients with pain and improve patient safety.
John Prunskis, MD., and Illinois Pain Institute ('PI) are national leaders in the precise diagnosis and treatment of pain with limited use of opioid medications. IPI supports targeted treatment of the source of pain rather than just masking the symptoms with narcotics. The approach is growing in popularity as awareness of the opioid epidemic increases.
The Illinois Pain Institute (IPI), is Chicagoland's leading and longest-established, multi-site pain management practice with national reputation. IPI doctors specialize in the precise diagnosis and treatment of neck, back, herniated disks, sciatica, headache, pelvic, musculoskeletal, and many other painful conditions. Locations: Barrington, McHenry, Elgin, Itasca, Huntley, Libertyville and Elmhurst. http://www.illinoispain.com 847-289-8822