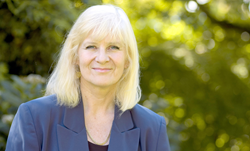 My clients are some of the greatest people in town!
Seattle, WA (PRWEB) September 15, 2015
"My business is client-centered. I have worked in the Seattle/Bellevue, Washington real estate market for 17 years now. I love my clients and marketing their homes for top dollar. From the professional photos and virtual tours, to open houses, meeting people and showing homes is terrific. Finding the ideal home for my buyers is the closest thing we have to a treasure hunt. Working with great people and listening to what they need is what it is all about. Then negotiating them a great deal," says Johna Beall of Real Living NW Realtors.
Five Star Professional is pleased to announce Johna Beall, MA, Real Living NW Realtors, has been chosen as one of Seattle's Five Star Real Estate Agents for 2015. This is her 10th year being a Five Star award winner.
Five Star Professional partnered with Seattle magazine to recognize a select group of Seattle-area real estate agents who provide quality services to their clients. Less than 4 percent of real estate agents in the area were selected. Johna Beall is featured, along with other award winners, in a special section of the December issue.
The Five Star Real Estate Agent award program is the largest and most widely published real estate agent award program in North America. Agents are measured using an objective, in-depth research methodology with significant focus on customer feedback and overall satisfaction.
"My clients are some of the greatest people in town! I am so grateful to them for referring their friends and families and helping me grow my business. I want to say thank you, from my heart to those with whom I have had the pleasure to work through the last 17 years. This award reminds me of what is important: my clients and their needs. I treat every transaction as if it were my own," says Johna.
"Five Star Real Estate Agents are more than knowledgeable experts in their field. They maintain a sharp focus on building enduring relationships and demonstrate tremendous dedication to the families and individuals they serve," says Lynn Hargreaves, V.P., Research and Services Operations, Five Star Professional.
Johna Beall's Five Star award profile can be viewed here.
About the research process:
Now entering its 13th year, Five Star Professional conducts in-depth, market-specific research in more than 45 markets across the United States and Canada to identify premium service professionals.
Five Star Professional contacts thousands of recent homebuyers to identify award candidates. Phone, mail and online respondents rate their real estate agent on 10 satisfaction criteria. Candidates with a qualifying client satisfaction rating move on to be evaluated on objective criteria such as experience, production levels and disciplinary and complaint history.
Real estate agents do not pay a fee to be considered or awarded. For more information, visit http://www.fivestarprofessional.com.