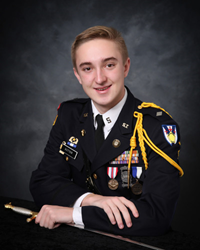 "The biggest danger to your immediate health could be a simple handshake, mosquito bite or a cough from a nearby stranger."
Atlanta, Georgia (PRWEB) February 09, 2016
Chris will use the $1,000 as an incoming college freshman in Fall 2016. He has already been accepted into the College of Agricultural & Life Sciences at University of Wisconsin, Madison. Christopher is waiting to hear from a few more schools, but if he decides to attend Wisconsin, he will be a fifth-generation Badger.
Firm founder John Foy started this scholarship to raise awareness for this deadly disease. The requirements are being a college student, or a rising student like Chris, who has either had leukemia or has been affected by the disease. Chris battled the disease from age 2 to 5. He still bears a 3-inch scar on his chest, but thankfully he has been cancer-free and able to live a full and deliberate life.
Scholarship applicants were asked to write a 500- to 1,000-word essay, choosing one of three topics. Chris heard about the scholarship from his college counselor and decided to apply because of one of the essay questions: "What one obstacle do people with leukemia face that you would like the general public to know about?"
Chris wanted the public to know that leukemia patients, especially children, lack the immunity to fight everyday diseases and could easily die from a seemingly harmless childhood disease, such as chicken pox, that could have been prevented with proper vaccinations.
"The biggest danger to your immediate health could be a simple handshake, mosquito bite or a cough from a nearby stranger," he wrote.
Chris, and his parents James "Jamie" and Kristen Gitter, fought a valiant medical battle when he was an infant. Chris had the added help that his father is a nephrologist and his mother is a pharmacist. Chris intends to study medicine and possibly become an oncologist to help other cancer patients. Fortunately, his "easiest" subjects are math and science.
Chris is a senior at St. Thomas Academy in Mendota Heights, a Catholic all-male military academy. His sister, Emilie, 16, is a student at the all-girls school across the street, Convent of the Visitation, and Chris readily cedes that she is the athlete in the family. But Chris has a good excuse–his childhood cancer treatments restricted his muscle growth as an adult. Still, Chris joined the track and cross-country teams as a manager and as an athlete was able to finish the last 5K of the season. He didn't come in first, "But I didn't come in last," he said. You can also read Chris's full essay here.
You can also read the original source here.
About John Foy and Associates:
Established in 1999, John Foy and Associates is a personal injury law firm in Atlanta, GA that has been fighting and winning for Georgia residents for more than 20 years. Known as the "Strong Arm" of Georgia, John Foy and Associates is committed to representing people who have been injured due to the negligence of others. For more information on John Foy & Associates contact Jody Davis, our Director of Marketing, at jdavis(AT)johnfoy(DOT)com.