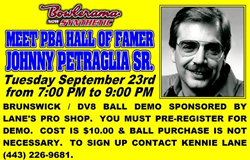 New Castle, DE (PRWEB) September 16, 2014
Lane's Pro Shop at Bowlerama Family Entertainment Bowling Center proudly presents Brunswick DV8 Ball Demo with special guest PBA Hall of Famer Johnny Petraglia.
Ball Demo will take place at Bowlerama on Tuesday, September 23, 2014 from 7pm - 9pm. To participate in the ball demo, pre-registration is required and the cost is $10. Contact Kennie Lane at 443-226-9681 to register. You may come in to see Johnny Petraglia, Sr. at no charge.
Johnny Petraglia Sr. is a member of the Professional Bowlers Association, where he won 14 tour titles. He has also won eight Senior PBA Tour Titles. He is a member of both the PBA and USBC Halls of Fame. He joined the PBA in 1965 and won his first title in 1966 when he was only 19 years old. His best season as a pro came in 1971 when he won five titles in all. In 1994, the 47 year old rolled the PBA's seventh televised perfect 300 game, defeating Walter Ray Williams. He did not however go on to win the title match. Petraglia is one of only two bowlers to win at least one regular or Senior PBA Tour title in six different decades. (wikipedia.org)
Wikipedia, Johnny Petraglia, September 5, 2014, http://en.wikipedia.org/wiki/Johnny_Petraglia