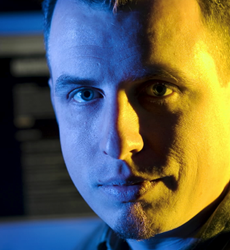 Not only are we able to align well with amazing charities like Hackers for Charity and bring in legendary speakers like Johnny Long, but we've also been able to significantly decrease costs to the infosec community looking to attend
Albuquerque, NM (PRWEB) June 30, 2014
Title: Johnny Long, world renowned author of Google Hacking and the Founder of Hackers for Charity.org, to headline EC-Council Foundation's Hacker Halted
Summary: Johnny Long, author and revolutionary security thinker, will be coming to the US to deliver the keynote at Hacker Halted, EC-Council Foundation's premier security conference.
Body: Johnny Long, the revolutionary hacker, author, and speaker will be headlining this year's Hacker Halted, EC-Council Foundation's largest hacking event in Atlanta, GA October 16 – 17, 2014. Long is the groundbreaking author of Google Hacking for Penetration Testers, the book that introduced the world to the idea that Google searches could be a security tool to quickly, and without any additional tools, scan websites for security vulnerabilities. After the publication of his first book, his security career became immensely successful and he authored and co-authored a long list of security books and manuals.
Long, once a regular at US hacking security conferences, has dedicated the past five years of his life to furthering the works of his charity, Hackers for Charity, in Uganda. Hackers for Charity (HFC) employs "volunteer hackers and technologists ... to engage their skills in short projects designed to help charities that cannot afford traditional technical resources." His organization's reach has been truly impressive as Hackers for Charity has helped not only other charities expand their reach in Africa and beyond, but has helped hackers who want to use their skills to improve the lives of those in need. So far one of the most impressive accomplishments of HFC include erecting a computer-training center in Uganda to help ready the local population for lucrative computer careers which could lift them out of poverty.
HFC's projects align with EC-Council Foundation's mission of creating a safer cyber world through innovative programs and events. This is the first year that EC-Council Foundation is running Hacker Halted since EC-Council, the for profit affiliate of the Foundation, donated all its IT security and CISO executive events to the Foundation. Eric Lopez, Executive Director of the Foundation, credits Hacker Halted's new focus on charity work with the exciting developments for this year's events.
"Not only are we able to align well with amazing charities like Hackers for Charity and bring in legendary speakers like Johnny Long, but we've also been able to significantly decrease costs to the infosec community looking to attend a great IT Security conference at a reasonable rate." says Lopez of the newly discounted delegate passes and training prices.
The new focus of Hacker Halted is on educating as many people as possible about information security to reduce the huge costs data breaches and other privacy invasions cost the world each year. To that end, EC-Council Foundation is working with other non-profits and governments to provide discounts on Hacker Halted Academy advanced training courses and passes to attend Hacker Halted.
About Hacker Halted
EC-Council Foundation's flagship information security conference, Hacker Halted, aims to raise awareness toward increased education and ethics in information security. This information security conference series covers in-depth topics into the development of security issues plaguing the world. Hacker Halted features many world-renowned subject matter experts and high-level speakers, as well as some of the best technology companies showcasing their products and services. Hacker Halted provides the most sought after technical training and certification classes offered through Hacker Halted Academy.
About EC-Council Foundation:
EC-Council Foundation is a charitable and educational organization dedicated to educating and training individuals in security skills. Established in 2012 by EC-Council, the foundation seeks to raise awareness, build capacity across nations and ultimately promote global peace. EC-Council Foundation's mission is to foster collaboration and participation by global digital citizens to become advocates for safe, secure on-line activities and to foster online child protection through education. For more information, visit foundation.eccouncil.org.