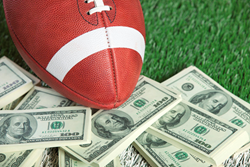 Lawyers who work under terms of contingency tend to back off when faced with a defendant with the right planning.
Boston, MA (PRWEB) August 14, 2014
Jonathan Paul Manziel got paid. The most talked-about quarterback in college football since Tim Tebow recently signed a four-year contract with the Cleveland Browns. According to an official press release by the National Football Association, insiders believe that the rookie from Texas A&M will earn $8.3 on his first NFL contract (1). Just a few weeks before becoming a millionaire, however, Manziel was named as a defendant in a bizarre federal lawsuit that could have been avoided with the right planning according to UltraTrust.com: Samantha Schacher v. Johnny Manziel, case # 8:14-CV-01176-SDM-TGW in the United States District Court for the Middle District of Florida (2).
According to Fox Sports, the case turned out to be an unwarranted lawsuit filed by a federal inmate who is known to file baseless civil actions using the names of people who work in the broadcast and entertainment industries; in this particular case, the name of the fake plaintiff was that of a CNN contributor (3). The lawsuit claimed that Manziel had engaged in a pattern of sexual harassment against the plaintiff, purportedly posting pictures of his groin on Instagram.
Ever since he was drafted by the Cleveland Browns, Manziel has been making headlines for reasons other than professional football and being named as a respondent in bizarre lawsuits. His leisurely activities off the gridiron according to cleveland.com and his forthright attitude towards enjoying his lucrative NFL salary have elicited spirited reactions from football fans who are divided on their opinions about a rookie quarterback who has yet to play a regular season game (4).
According to Fox Sports, with 12 weeks to go before the opening day of the 2014 NFL season, the rookie known as "Johnny Football" has been mentioned in tabloid and gossip publications more often than in sports journals. Tabloid reporters seem to love following Manziel around as he bounces from nightclubs to cabarets and from casinos to pool parties (5). He seems to be as comfortable near the end zone as he is in the VIP zones of trendy nightclubs, and he already has a signature gesture of rubbing his fingers together as if counting a thick stack of bills (6).
Some of Manziel's pre-season antics have been highly criticized on social media and various sports news publications according to cleveland.com. The Cleveland Plain Dealer recently mentioned three of Manziel's follies: Riding astride a large inflatable swimming pool toy shaped like a swan while drinking champagne straight from the bottle, spraying bubbly wine at party guests, and drunkenly speaking into a fat stack of bills as if using an early mobile phone (4). There seem to be more photographs of Manziel in the company of bikini beauties, rappers and revelers than on the field with his teammates in the Cleveland Browns.
According to CBS Sports, the numerous pictures and videos of Manziel having fun have made plenty of rounds on Twitter and all the major social networks; this has caused fans in Cleveland to wonder if perhaps their rookie quarterback is spending too much time drinking and partying instead of training (7)
"Manziel is still in his early 20s; let's not forget about that. Put it this way: He could celebrate his 22nd birthday during the playoffs if he successful in taking the Browns beyond the post-season," commented Rocco Beatrice of UltraTrust.com. Mr. Beatrice is the Managing Director of Estate Street Partners, LLC, a wealth management and estate planning firm. "He seems to enjoy football, beautiful women, nightlife, and money, and not necessarily in that order. He is a like a 21st century version of Broadway Joe,"
Mr. Beatrice is referring to Joe Namath (8), the legendary NFL quarterback who played for the New York Jets from 1965 to 1977. Namath was known for his bachelor escapades just as much as he was known for his football prowess. "Manziel is living in the moment and enjoying himself, which is something that Namath did throughout his career," continued Mr. Beatrice. "We see a potential problem, however, with his outgoing and festive behavior, and it is not directly related to his abilities on the field. Let's talk about the possibility of Manziel going broke sometime after the year 2020; better yet, let's talk about how he can prevent a financial disaster."
Expanding on the above, Mr. Beatrice explains the phenomenon of NFL players becoming insolvent (9): "We know from Sports Illustrated that 78 percent of players in the NFL go through financial hardship despite earning millions. Many of them end up filing for bankruptcy; last year we saw Vince Young of the Tennessee Titans going bankrupt, and he is a talented quarterback like Manziel."
Mr. Beatrice continues: "Manziel's 'pay me' gesture tells us that he loves making money, and we can infer from his party animal ways that he probably enjoys spending it as well. He is hardly alone in this regard; many NFL players are big spenders who do not follow wealth preservation or estate planning strategies. They live like there is no tomorrow, and when tomorrow comes they wonder where all their money went. Through reporting from Sports Illustrated, we know where this money goes: To unscrupulous agents, fraudsters, gold diggers, dubious investments, greedy plaintiffs, etc." (9)
"Now that everyone knows Manziel is worth at least $8 million, people are going to come after his money from every direction. He already got a taste of what the future holds with that strange lawsuit in Florida. Once the money from endorsement starts coming in, he should expect even more money grubbers after him," opined Mr. Beatrice. "Manziel should get started with asset protection now, and he should look into an irrevocable trust to keep sham plaintiffs, gold diggers, hangers-on, and other unpleasant characters away from his money," continues Mr. Beatrice. "By putting his NFL earnings into an irrevocable trust, Manziel would effectively shield his money from others, and he could also set up a schedule of payouts so that he has enough to live on and party with. He deserves to have fun, but the temptation to overspend is often too strong to resist. An irrevocable trust would help him to avoid getting out of control with the proceeds from his NFL contract."
In conclusion, Mr. Beatrice summarizes how UltraTrust.com could help Manziel: "Many attorneys who represent plaintiffs in civil lawsuits work on contingency; this means that they evaluate their cases and ensure that the respondent has sufficient assets to cover legal expenses and to appease their clients. When the assets are in an irrevocable trust, they do not belong to the respondent; for example, Manziel could be driving a Rolls Royce because a trustee allows him to do so, but this does not mean that the luxury car belongs to the star quarterback. Upon realizing that the assets are in an irrevocable trust, attorneys would be dissuaded from taking the case unless their clients are able to pay their fees in advance. In other words, lawyers who work under terms of contingency tend to back off when faced with irrevocable trusts."
About Estate Street Partners (UltraTrust.com):
For 30 years, Estate Street Partners has been helping clients protect assets from divorce and frivolous lawsuits while eliminating estate taxes and probate as well as ensuring superior Medicaid asset protection for both parents and children with their Premium UltraTrust® Irrevocable Trust. Call (888) 938-5872 to learn more.
#
1. nfl.com/news/story/0ap2000000359173/article/johnny-manziel-signs-contract-with-cleveland-browns 6/17/14
2. deadspin.com/25-million-lawsuit-filed-against-johnny-manziel-is-bat-1580596256 5/23/14
3. foxsports.com/ohio/story/cleveland-browns-johnny-manziel-hoax-lawsuit-dismissed-060414 6/4/14
4. cleveland.com/browns/index.ssf/2014/06/cleveland_browns_and_nfl_links_72.html 6/19/14
5. foxsports.com/ohio/story/brady-quinn-thinks-johnny-manziel-should-clean-up-his-act-061714 6/17/14
6. couriermail.com.au/sport/more-sports/newly-drafted-nfl-quarterback-johnny-manziel-agrees-to-8-million-rookie-contract-with-browns/story-fnii0hmo-1226958699287 6/18/14
7. cbssports.com/nfl/writer/jason-la-canfora/24583965/how-i-learned-to-stop-worrying-and-love-johnny-manziel 6/9/14
8. nfl.com/player/joenamath/2521943/profile 6/19/14
9. foxnews.com/sports/2014/02/03/life-after-sports-why-nfl-players-go-broke/ 2/3/14