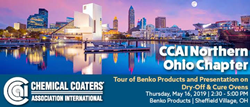 Leading edge engineered solutions from the minds of Benko Products......."Engineered To Be More!"
SHEFFIELD, Ohio (PRWEB) April 30, 2019
Please join us Thursday May 16th at 2:30pm. Just click the link to register online today. Register Here
Since its introduction of the Sahara Drum Hot Box in 1983, Benko's industrial heating solutions have grown to include powder coating, curing, burn off, drying and truck in ovens as well as a full line of industrial furnaces. Always evolving, Benko is pioneering infrared burn off ovens with electric afterburners as well as advanced controls to substantiate excellent performance properties.