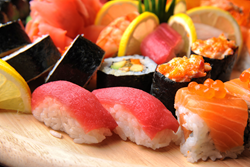 Join Social Club Foodie for Good, Help Fund Causes & Earn Fine Dining Rewards
Santa Monica, CA (PRWEB) June 12, 2015
People participate in Foodie for Good Social Club by using Recruiting for Good a social staffing solution to fund causes, and earn fine dining rewards.
Fun Way for Foodies to Make a Difference and Enjoy Dining for Good
"One in 3 people is socially connected to an executive, and can help us use Recruiting for Good to fund causes," says, Carlos Cymerman, Recruiting for Good, Founder.
People participate in Foodie for Good Social Club, by simply making executive introductions to help Recruiting for Good find new employees for companies, and every time a finder's fee is earned;
1) $500 is donated to a cause.
2) $500 dining gift card is rewarded.
Recruiting for Good continues to honor executive introductions by donating to causes and rewarding foodies dining gift cards for good (every year monies are generated from placements).
About
Foodie for Good is a social club for socially conscious Los Angeles residents that love to participate, help fund causes, and enjoy fine dining.
Since 1998, Recruiting for Good has been a staffing solution, helping people find great jobs, make a difference, and enjoy life. For more information about using Recruiting for Good, check out http://www.RecruitingforGood.com.
Fuzeus, is a social sharing and fundraising platform that deepens the connections between nonprofits and the individuals and communities that support them. We make it easier to find, share and care about the good being done in the world by providing you with the tools to turn your voices into action. http://www.FuzeUs.com