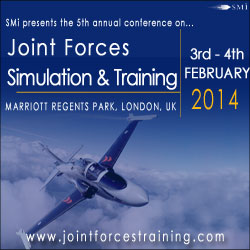 London (PRWEB UK) 15 October 2013
SMi announce that the registration for the 5th annual Joint Forces Simulation & Training conference is now open.
The concept of Joint warfare is becoming increasingly prevalent in the current operational environment, as forces move towards a contingency role. With the increasingly unpredictable nature of modern conflict, warfare is no longer 'conventional' and with this comes a growing requirement for a dynamic and adaptable force, utilising strengths from each arm of the services. However, as budgets become increasingly limited there is a requirement for alternative training solutions, through simulation, international cooperation and collective training, to maintain high operational readiness, without sacrificing efficacy.
SMi's 5th annual Joint Forces Simulation & Training conference features an international panel of senior military speakers who will give attendees the opportunity to experience first-hand the processes involved in supporting and maintaining Joint Force capability from the commanders driving the sector.
The early bird expires on the 31st October - To book a place and save £300 please click here.
The speaker line-up includes a number of high ranking military figures:

Lieutenant General Mark Schissler, Deputy Chairman, NATO Military Committee, NATO
Air Vice Marshal Bob Judson, Director Joint Warfare, UK Joint Forces Command
Major General Serronha, Commander, Madeira Islands Military Operational Command, Portuguese Armed Forces
Brigadier General Boni, Commander Italian Joint Force Headquarters, Italian Ministry of Defence
General (Retd.) Thierry Cambournac, former Inspector General of the Armed Forces (2011-2013), French Army
Key reasons to attend:
New high-level speaker line-up and updated conference agenda to provide focused sessions on Land, Sea, Air & Simulation
Hear cutting edge presentations from the key decision makers driving training and simulation
Communicate directly with senior military operators and ideas-share with the personnel currently defining the requirements of Joint Force capability
Hear international case studies from leading NATO nations and gain an insight into the current state of Joint force operations, training and resources
Learn about the latest developments available in synthetic training; for pilots, trainers, submarine personnel and artillery
Analyse the advantages of multinational training and build relationships with allied counterparts
The event will offer numerous networking opportunities with leading defence organisations and senior international military personnel, giving delegates the chance to communicate directly with the key decision makers driving the Joint Forces concept.
For more information please visit http://www.jointforcestraining.com