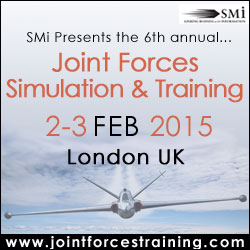 (PRWEB UK) 7 October 2014
SMi are delighted to announce the registration for the 6th annual Joint Forces Simulation & Training conference is now open.
As militaries focus on collectively implementing innovative simulation and virtual training systems that are both cost effective and successful in the delivery of training, this conference is a must attend event. Join SMi and be part of a major networking experience showcasing in depth discussions on joint forces training initiatives, plus a spotlight on current training tools which allow the development of strategic alliances and knowledge transfer, such as computer games and smart devices.
The exceptional speaker line-up includes:

Brigadier General Dzintars Roga, Assistant Chief of Staff, Joint Education, Training and Exercises, Joint Force Trainer, Allied Command Transformation, NATO
Brigadier General Recep Unal, Commander, Air Training, Turkish Air Force
Wing Commander Matt J Grafton BEng RAF, Officer Commanding Air Battlespace Training Centre, RAF Waddington
Major Roar Wold, Head of Educational Support and Sims, Norwegian Army Military Academy, Norwegian Army
Captain Bjorn Persson, Head of Education Programmes, Air Combat Training School, Swedish Armed Forces
Colonel Andrew Cuthbert, Commander, British Military Advisory Training Team (Czech Republic), BMATT (CZ) (Vyskov)
Colonel Uwe L. Heilmann, German Air Force, Branch Head, C4ISTAR, NATO Joint Air Power Competence Centre
Jonathan Read, Head of UK, Bohemia Interactive Simulations
Click here to view the full conference agenda
Don't miss - An interactive post-conference workshop on:
eLearning revisited: A practical, wide-ranging review of the techniques, tools and strategies essential for delivering successful eLearning.
Hosted by: Tim Neill, Independent eLearning Consultant on the 4th February 2015
Key reasons to attend:
New for 2015– Presentations from Estonia, Turkey and Czech Republic
Learn how to create a warfighting capability that can rapidly react as a collective force
Examine the impact of utilising virtual training programs in a single environment to maximize benefits and keep costs down
Discover how future capabilities will be implemented and how military simulation & training will be affected
Hear cutting edge presentations spotlighting operational experiences from militaries across the globe
Join our two interactive panel discussions on: Introducing modelling and simulation for autonomous systems and What are the current issues for delivering training for contingency in a joint environment?
To secure your place & save £300, you can visit http://www.jointforcestraining.com to register. Alternatively you can contact the team on +44 (0)207 827 6000 for further information.
---------------------ENDS-------------------
About SMi Group
The SMi Group is a highly professional, independent and global event-production company that specializes in Business-to-Business Conferences, Workshops and Masterclasses, and online Communities. The SMi Group creates and delivers events in the Defence, Security, Energy, Utilities, Finance and Pharmaceutical industries. For more information, please visit http://www.smi-online.co.uk